Become a Mentor With the McMaster Start Coding Club
Important Notice
For the latest information and updates about McMaster's response to COVID-19 (coronavirus) please visit the McMaster COVID-19 site.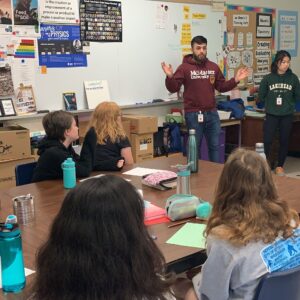 McMaster Start Coding is a  a club that focuses on getting students of all ages, especially girls, students with learning disabilities, and underprivileged youth, to consider STEM disciplines through providing free programming workshops and hackathons.
Our mentorship opportunities:
As we prepare to welcome students into the post-secondary environment at McMaster, we are looking to recruit mentors to be a part of our new undergraduate first-year mentorship program.
Mentors will be responsible for a small group of first-year students.
Groups will partake in hackathons and projects led by mentors. In addition to furthering their own learning, groups will have a chance to be mentors at events that are held for elementary school aged kids.
Consider becoming a mentor: 
Currently, mentors from McMaster Start Coding come from a variety of backgrounds: students from life sciences, health sciences, commerce, and more. Computer science is a field that is connected to a variety of disciplines.
Prospective mentor applicants are not limited to students in computer science related programs.
Mentors will receive adequate training and will receive plenty of support throughout the program. Applicants do not need any previous knowledge; they just need to be willing to learn.
For more information about the club and to apply, please visit the McMaster Start Coding website.