Call For Applications: AURA's Executive Committee
extracurricular
| April 22, 2021
Submitted by
Cassandra D'Amore
for Association for Undergraduate Research on Aging
Important Notice
For the latest information and updates about McMaster's response to COVID-19 (coronavirus) please visit the McMaster COVID-19 site.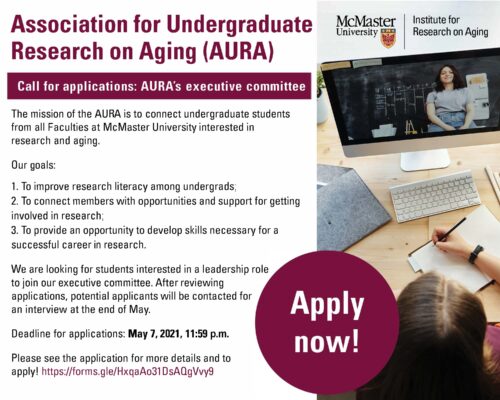 The mission of the Association for Undergraduate Research on Aging (AURA) is to connect undergraduate students from all Faculties at McMaster University interested in research and aging.
Our goals are to:
Improve research literacy among undergrads
Connect members with opportunities and support for getting involved in research
Provide an opportunity to develop skills necessary for a successful career in research.
We are looking for students interested in a leadership role to join our executive committee. After reviewing applications, potential applicants will be contacted for an interview at the end of May.
Learn more and submit your application by Friday, May 7 11:59 p.m. (EDT).