Canadian Tire Marketing Face Off
This message does not apply to part-time students.
Important Notice
For the latest information and updates about McMaster's response to COVID-19 (coronavirus) please visit the McMaster COVID-19 site.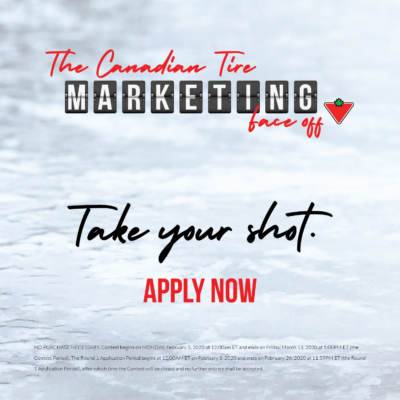 Introducing the Canadian Tire Marketing Face Off. Take your shot for a chance to win a 5-day trip to London, England, and a fast-track interview for Canadian Tire's Emerging Marketers Leadership Development Program!
The competition is open to 2nd and 3rd year university students in Canada (excluding residents of Quebec). Round 1 applications are due on Wednesday, February 26. Find all the details on the Marketing Face Off website.
Timelines:
Round #1 due: Wednesday, February 26 by 11:59 pm
Round #2: Final day presentations and development sessions Friday, March 13
Top teams in the final round can expect:
Prizing: The first place team will receive a 5 day trip to London, England. The top 3 teams will receive monetary prizes and FastTrack interview process for the Emerging Marketers program
Mentorship: The top 10 teams will be paired with a leader within CTC
Development: Networking, workshops, and executive speakers