CityLAB Semester In-Residence Applications
academic
| June 8, 2021
Submitted by
Randy Kay
for Office of Community Engagement
Important Notice
For the latest information and updates about McMaster's response to COVID-19 (coronavirus) please visit the McMaster COVID-19 site.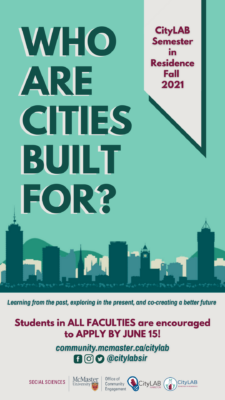 Offered each fall semester, CityLAB Semester in Residence is a 15-unit course designed for passionate, motivated, and enthusiastic students. If you want to learn from the community, apply your studies to make change, and expand your personal and professional networks, then this is the course for you!
How it works:
Students and staff from the City of Hamilton co-create and design an innovative real-world project to address the problem, gaining valuable insight and data that can be shared and potentially scaled up.
Students in any faculty from McMaster are welcome to apply
Each semester is limited to 30 students who get instruction in Design, Dialogue, Project Management and engage in City-building by applying the learning in small project teams.
How to apply:
The Semester at CityLAB courses are meant to be immersive experiences and will not necessarily fit everyone's program requirements. Check with your Academic Advisor to make sure you can fit the 15-units into your educational schedule.
Apply by Tuesday, June 15.