DeGroote Fall 2021 Experience Ventures Challenge
This message does not apply to part-time students.
Important Notice
For the latest information and updates about McMaster's response to COVID-19 (coronavirus) please visit the McMaster COVID-19 site.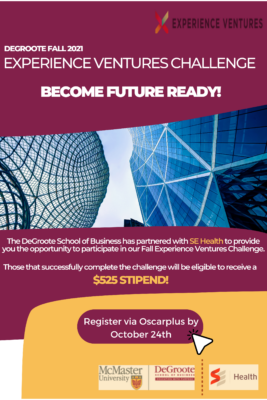 Entrepreneurial thinking is being creative in finding innovative solutions. It's about taking initiative, and exchanging knowledge across disciplines. It is essential to enriching lives and advancing society. Experience Ventures, powered by the Hunter Hub for Entrepreneurial Thinking at the University of Calgary, enables college and university students to make an impact alongside real-world innovators through entrepreneurial thinking placements.
Experience Ventures is funded by the Employment and Skills Development Canada.
The DeGroote Fall Experience Venture Challenge will enable you hone your entrepreneurial thinking skills, working alongside side a real-world innovator – SE Health. SE Health provides health care services across many areas of the health system, including home and community care, long-term care, acute care and primary care. Their customers include governments, regional health authorities, hospitals, the seniors' living sector, community organizations and consumers.
SE Health is challenging our students to push digital boundaries and help them investigate and recommend solutions for their nurses to self-manage scheduling. They are looking to design and test in a small, targeted experiment with one or two nurse teams the following:
Change in nurse workflows to support future state of self scheduling
Software upgrades to our current nurse app to accommodate the new workflow
Hardware upgrade to accommodate a more powerful app, and to make the interface easier for nurses to self schedule
Apply your learnings, skills and talents to energize SE Health's next phase and design the future of their work through this cutting-edge project!
The Challenge is open to students in all DeGroote programs but will be limited to a maximum of 30 student participants. You will be placed into cross-program teams of 3-4 students.
Learn more and apply on OSCARplus by October 24 to be part of this exciting Experience Ventures Challenge!