DeGroote Green's Inaugural Speaker Series
clubs
| January 16, 2019
Submitted by
Omar Barakat
for DeGroote Green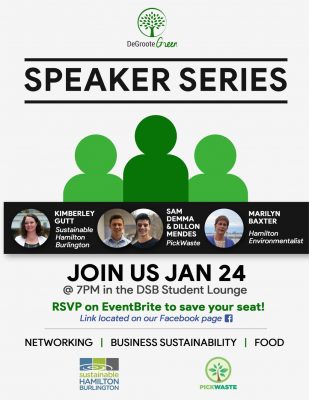 DeGroote Green's Inaugural Speaker Series
For the first time ever, DeGroote Green is hosting a speaker series event. This new, exciting event will be held on Thursday January 24 and will begin at 7 pm. It will be taking place at the DCS Commerce Lounge. This event is completely free, you simply need to RSVP on Eventbrite!
The speaker series will be the largest DeGroote Green event yet. It will be a chance for students to meet the executive team, but much more importantly, students get the opportunity to listen to some of the best environmental leaders in our community expressing their thoughts and sharing their numerous experiences.
DeGroote Green is the sustainability committee for the DeGroote Commerce Society. They find different creative ways to raise awareness and increase the initiative to take care of our planet. You may have seen them during their previous event: the bottle drive held in late 2018, where hundreds of bottles of all kinds were collected at the DSB building and at students' houses for recycling. Furthermore, one of their main initiatives for this year is to make all DCS events free of plastic water bottles and find a more sustainable method for attendees to get their water.
As previously mentioned, this event is the first of its kind and is expected to be a fun event with lots of great information being shared. Come out and enjoy the event with free food while gaining new experiences and information. More details can be found on DeGroote Green's Facebook page.
If you have any questions, please do not hesitate to reach out by email at green@degrootecommerce.ca
And RSVP right now on Eventbrite.