Digital Inclusion Challenge 2020 | Oct 23 – Nov 1
Important Notice
For the latest information and updates about McMaster's response to COVID-19 (coronavirus) please visit the McMaster COVID-19 site.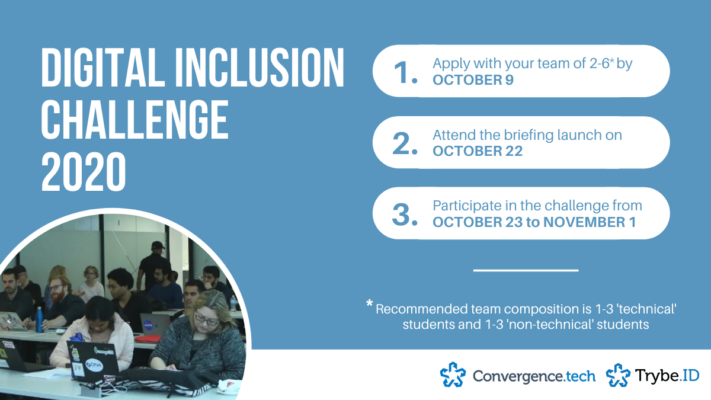 COVID-19 has had an unprecedented impact globally, and the Education industry had to adapt almost overnight. The pandemic has highlighted the merits for a future of blended learning alongside new technologies but has also exacerbated the societal digital divide and mental health concerns.
The Digital Inclusion Challenge 2020 aims to use COVID-19 as a catalyst for change and seeks to create new technology solutions for the education sector which will address mental health, digital wellness, equity, and diversity issues.
How It Works
The virtual  Challenge follows in the spirit of a Hackathon, in which teams of students globally are encouraged to work collaboratively to design a viable solution to our 2020 Problem Statement.
To take part in the Challenge, teams of 2-6 students must submit a Registration application. At the start of the Challenge, participants will hear from industry experts through a series of presentations to situate the Problem Statement and then will be given ten days to develop their solutions. Non-participants are also able to join these presentations.
They will then submit details about their proposed solutions . The groups creating the best proposals will then be invited to pitch their solution to a panel of specialist judges and prizes will be rewarded to the winning teams.
Event details: