Emerging Leaders Program Information Sessions
extracurricular
| January 27, 2020
Submitted by
Victoria Mazzarolo
for Health Leadership Academy
Important Notice
For the latest information and updates about McMaster's response to COVID-19 (coronavirus) please visit the McMaster COVID-19 site.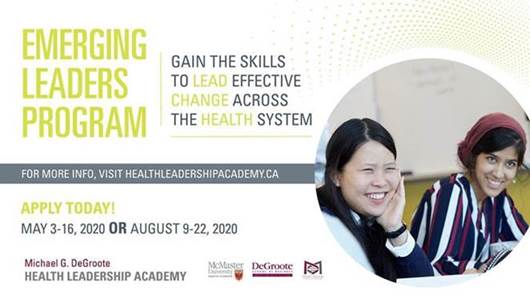 The Emerging Leaders Program is a two-week intensive, residential, leadership program for students and young professionals from across Canada and beyond. The healthcare landscape is continually changing and will require innovative leaders who can disrupt the status quo to bring forth meaningful changes.
With a focus on personal leadership development, collaborative team engagement, and change management capabilities, the Emerging Leaders Program will push you to become a better leader.
Register today for an online information session!
February 11 from 7-8:30 pm.
Candidates will hear from and speak to ELP alumni regarding their experience with the program and how they applied what they learned. Applicants are encouraged to ask questions during the session. Questions will be addressed by ELP alumni, faculty and program administrators.