Registration Deadline: Emerging Leaders Program | May 2-9
extracurricular
| April 1, 2021
Submitted by
Joanna Williams
for Health Leadership Academy
Important Notice
For the latest information and updates about McMaster's response to COVID-19 (coronavirus) please visit the McMaster COVID-19 site.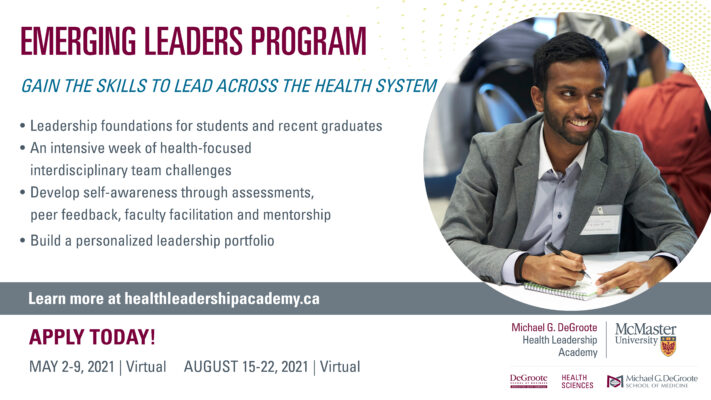 Emerging Leaders is a one-week intensive leadership foundations program for students and young professionals. Participants gain the skills to lead across the health system by learning the fundamentals of leadership in a health context.
Through the program students will understand who they are as a leader, and how they can better work with others. They will also gain a deeper understanding of the issues facing our complex and dynamic healthcare system. Learn the leadership foundation skills needed for today's changing health system.
We are currently accepting applications, but the admission window will be closing soon. Our virtual spring session runs from May 2-9, 2021.
For more information and to apply, visit Health Leadership Academy website.