Ericsson Innovation Awards: Student Competition
This message does not apply to part-time students.
Important Notice
For the latest information and updates about McMaster's response to COVID-19 (coronavirus) please visit the McMaster COVID-19 site.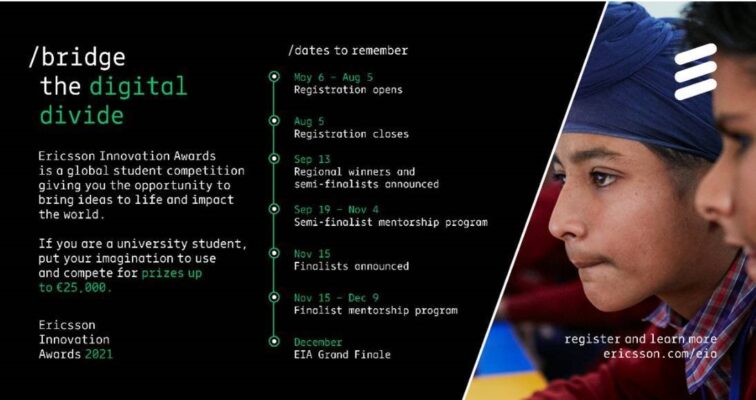 Have you heard of the The Ericsson Innovation Awards (EIA)? This global competition is your chance to address a major technological challenge and win BIG – including a cash prize of €25,000 (euros)!
This year's theme : Bridging the Digital Divide.
The Problem: Half the planet lives without access to the tools, information and resources that many of us rely on every day. Your challenge is to address this problem with a bold technological solution.
Interested? Check out important dates and next steps:
• Gather a team of 2-4 students. (Participants need to be enrolled at a university as of September 2021)
• Hot Tip: Teams with students from different disciplines, cultures and life experiences are best
• Register Early: The first 50 complete submissions to this year's EIA will have the opportunity to receive early written guidance and feedback from Ericsson
• WOW : In 2016, a Canadian team called SoundVision from the University of British Columbia won this competition!
Check out a detailed timeline of events and register by August 5 at 8 a.m. (EST) for your chance to win €25,000 (euros).