Experience Ventures Challenge 2022 applications open!
extracurricular
| October 3, 2022
Submitted by
Arina Barss
for CPD
This message does not apply to part-time students.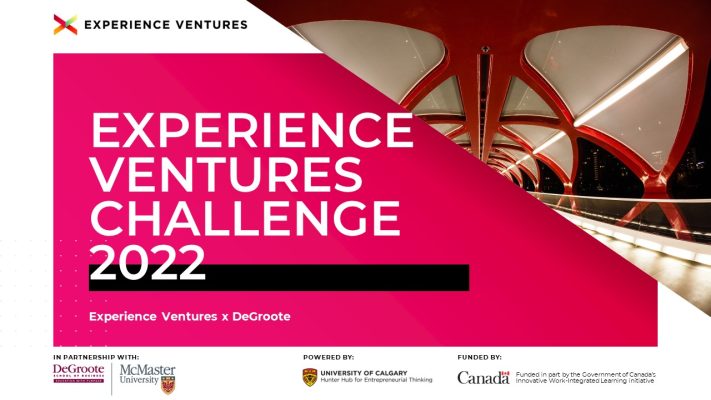 DeGroote School of Business has once again partnered with the Government of Canada's Innovative Work-Integrated Learning (I-WIL) initiative to run the 2022 Experienced Ventures Challenge! Students will gain real-world experience by using technology to solve a specific social, business, design or community-related problem. This year DeGroote's industry partner is Family Table Ventures, a business incubator that invests in early-stage tech companies that focus on building ethical and tenacious solutions. Selected students will be working on their newest venture: JadaConnect.
The Experience Ventures challenge enables students to:
Apply in-class learning to the challenges and opportunities facing ventures.
Explore Canada's evolving innovation economy.
Network and meet industry leaders and employers.
Discover the latest technologies being incubated in Canada.
Enhance your resume with a unique experience.
Develop your work-ready skills.
Receive $500 stipend for completing the challenge.
How to apply?
Students from all of DeGroote's programs are invited to apply. Only 24 students will be selected and placed in teams of 4 to participate.
Apply with your resume and a paragraph on how you have used entrepreneurial thinking to come up with an innovative problem-solving solution.
More information on OSCARplus.
Timeline:
Applications close: Sunday, October 9 at 11:59 p.m.
Teams are announced: Tuesday, October 11
Virtual kick-off: Monday, October 17 from 5:30 – 6:30 p.m.
In-person presentations: Thursday, November 17 from 5:30 – 7 p.m.