F.O.C.U.S week | Cultivating attention
extracurricular
| September 14, 2022
Submitted by
Yashasvi Yadav
for Open Circle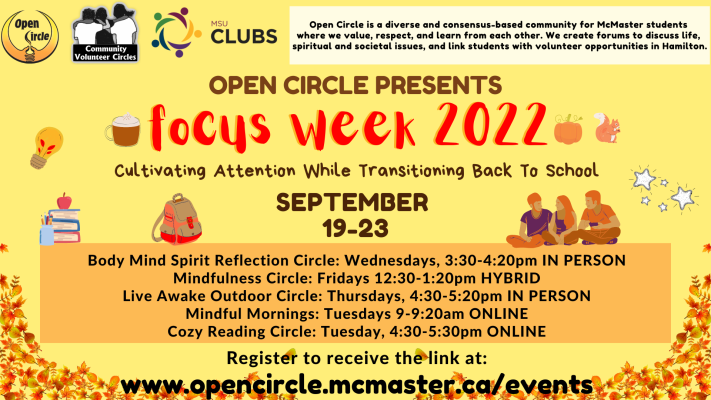 Join us for reflection on this theme through practices of mindfulness, awareness, and creativity to develop habits to bring attention to your daily life and live authentically this term. Learn from each other in a judgement-free atmosphere of respect with no pressure to share. Drop in to any circle.
Body Mind Spirit Reflection Circle: Wednesday, September 21, 3:30-4:20 pm, in person
A supportive space for sharing and listening to each other's journeys, questions, and ideas about spirituality and authentic healthy living. Learn from each other in an atmosphere of respect and openness.  Try out practices for holistic living such as meditation, creative expression, and journaling.
Live Awake Outdoor Circle: Thursday, September 22, 4:30-5:20 pm, in person
Reconnect, Renew and Revitalize. Slow down to relate with yourself, others, and nature at our in-person outdoor circle. Learn and share ideas for practicing presence this term. Experience embodied, creative, and mindfulness practices to support personal discovery, authenticity, and living with intention during change.
Mindfulness Circle: Friday, September 23,  12:30-1:20 pm, in person
Join us to learn about meditation and mindfulness. Each session includes a check-in about our experience of the past week, a guided meditation practice for 15-20 minutes, and opportunity to discuss any questions or insights.