Fail Like a Boss – March 18
Important Notice
For the latest information and updates about McMaster's response to COVID-19 (coronavirus) please visit the McMaster COVID-19 site.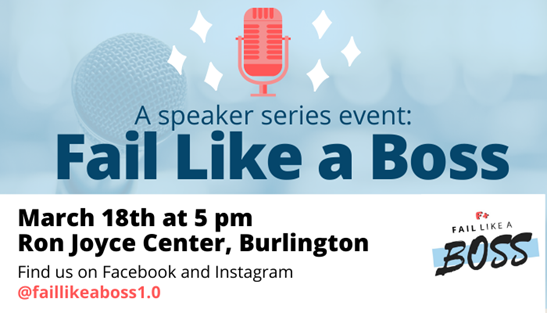 We're calling you out. Yes, YOU! You've been sticking to the status quo for far too long. What? You thought we wouldn't notice?
You have so much to offer, and yet you do the same thing every day because it's easier, or worse, because someone told you to. The same thing that supposedly "guarantees" success. But can you really call it a success if it doesn't drive you? If it doesn't get you excited in the morning?
Why not do it? That thing you've always wanted to do but have buried in the back of your mind, hidden away from the world. Cause you're scared. What if you try and it doesn't work? What if you fail? Well, my friend, we have news for you! You probably won't succeed the first time, or the second, or even the third, but that's what happens when you try something new. Something you've never done before. Something worth doing. But you WILL get it. You just have to learn to take risks, build resilience, stay driven to your purpose. Learn how to Fail Like a Boss.
Don't believe us? We'll prove it to you on March 18 at 5 p.m. at the Ron Joyce Centre. Purchase your ticket on Eventbrite and read more about the event on our Facebook page. 
We'll provide dinner and transportation. You'll engage with alumni and learn from successful industry leaders who have all Failed Like a Boss before they got to where they are now.
Follow us on Instagram, Facebook and LinkedIn.