Final Opportunity: Apply To Be a DLDP DeGroote Leader 2021
extracurricular
| March 30, 2021
Submitted by
Sumit Dave
This message does not apply to part-time students.
Important Notice
For the latest information and updates about McMaster's response to COVID-19 (coronavirus) please visit the McMaster COVID-19 site.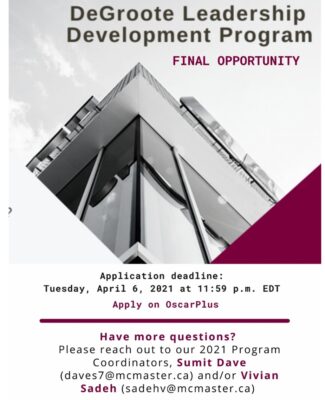 The DeGroote Leadership Development Program (DLDP) 2021 is seeking to add a few more DeGroote Leaders to this year's team – to share their experience/knowledge with incoming MBA students during Onboarding Week and throughout the Fall 2021 semester.
DeGroote Leaders bring these positive outcomes to DeGroote:
 Strengthened DeGroote Community
 Increased Integration of international and domestic MBA student experiences
 Maximized Development through academic and professional first year (FY) student experiences
What experience will you gain?  
Development of leadership and mentorship skills through seminars and workshops
Opportunity to transfer knowledge, relay co-op/summer experiences and directly contribute to the DeGroote MBA brand through engagement with FY students
Increased interactions with MBA peers, Faculty and Administration
Skills and Experience Requirements:
Exceptional communication skills (active listening is critical)
Ability to work in a team setting
Strong engagement in student experiences inside & outside of the classroom
Proactive work approach, demonstrating excellent time management
Strong willingness and ability to take full accountability of work performed
Excellent problem solving and conflict resolution skills
Demonstration of respect, inclusivity and collaboration
McMaster is strongly committed to diversity within its community.  
And the DLDP benefits from diversification of ideas and perspectives.  We especially welcome applications from members of racialized communities.
Title: DeGroote Leader (DL) 2021
Start Date: May 2021
End Date: December 2021
Collaborate with:  DLDP Program Coordinators, your DL peers and the Student Experience team
Please complete the detailed application package and submit on OSCARplus before Tuesday, April 6, 2021 at 11:59 p.m. EDT.
Applications will be live on Tuesday, March 30 on OSCARplus.