Get the Inside Scoop On Working for Nestle | Sept 10
career
| August 24, 2020
Submitted by
Lisa Keenan
for Career & Professional Development
This message does not apply to part-time students.
Important Notice
For the latest information and updates about McMaster's response to COVID-19 (coronavirus) please visit the McMaster COVID-19 site.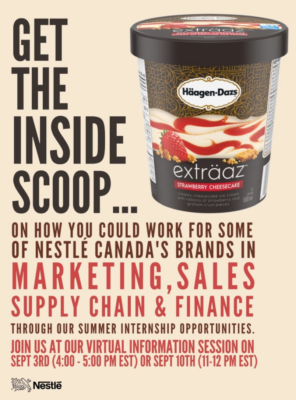 Join Nestle Canada in a virtual information session to learn more about Nestle, details on the application process, and for an interactive virtual  Q&A Session with current Interns across the Marketing, Sales, Supply Chain, and Finance functions.
Event details:
Thursday, September 10
11 a.m. – 12 p.m.
Please visit OSCARplus for registration and more information.