Health Economic Perspectives and the Future of Cancer Treatments
external
| September 4, 2018
Submitted by
Mary Taws
for Health Leadership Academy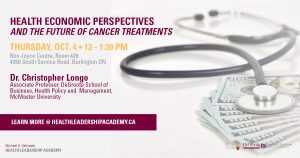 Health Economic Perspectives and the Future of Cancer Treatments
Dr. Christopher Longo will provide a brief backgrounder on how and why economic evaluations are completed. He will discuss recent trends including guidance changes and help you understand how these changes might affect how and which cancer drugs are funded.
Speaker: Dr. Christopher Longo
When: Thursday, October 4
Time: 12:00 – 1:30 p.m. 
Location: Room 429, 4th Floor Ron Joyce Centre | DeGroote School of Business, 4350 South Service Road, Burlington ON Canada L7L 5R8
Register here.