High School Business Heroes is Hiring Mentors
extracurricular
| January 13, 2022
Submitted by
Olivia Santos
for High School Business Heroes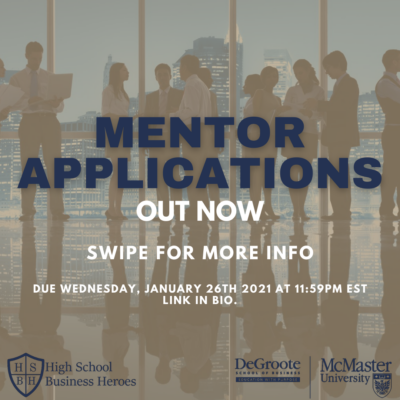 To kick off 2022, HSBH is hiring mentors for Season 16!
Want to get involved? Take on a leadership role and apply your experience and expertise to contribute to secondary students' experiential learning and personal/professional growth! As a university student, your role will consist of guiding our competitors throughout the different phases of our case competition and answering questions they may have about university life.
We are looking for someone that:
Is passionate about business
Likes to build relationships through mentoring and assisting students
Has an approachable and friendly personality
Wants to be involved in something impactful
Mentor Roles:
Motivate, guide, and inform the students that participate in the HSBH competition
Assist mentees throughout the phases of the competition as well as providing valuable insight
Build a strong relationship with mentees; be a role model they can communicate freely with about any university topic
Use your knowledge and experience to answer their questions
Qualifications:
Must be a current DeGroote Commerce/IBH Student
Previous leadership experience is an asset, but is not required
What you need to know:
Application deadline: Wednesday, January 26 at 11:59 p.m. (EST)
Apply: Google Form
Questions? Email hs.businessheroes@gmail.com or visit our Instagram page @highschoolbusinessheroes.