It's Town Hall Season!
academic
| January 25, 2022
Submitted by
Sean Visser
for MBAA
This message does not apply to part-time students.
Important Notice
For the latest information and updates about McMaster's response to COVID-19 (coronavirus) please visit the McMaster COVID-19 site.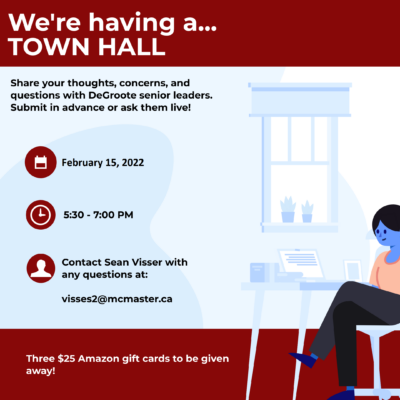 It's Town Hall Season!
Town Hall is scheduled for Tuesday, February 15 (link to be provided soon, no registration required). We are expecting many faculty leaders this time around who want to hear from you, so please block your calendars.
As part of open forum, and in an attempt to hear from as many of you as possible, your questions, concerns, and general comments are being collected for administration ahead of Town Hall, through:
Zoom drop-in hours (All times EST):

Tuesday, February 1: 3:30 – 5:30 p.m.
Saturday, February 5: 11:30 a.m. – 1:30 p.m.

Email at visses2@mcmaster.ca
WhatsApp @ +1-905-329-3755
If you're more comfortable writing and want to be discreet, here's a survey you can use to share your concerns/feedback. This form does not collect any identifying information.
As MBAA, we are here to listen and to act. This is the platform where you can raise your concerns directly and we hope you will take the stand! Feel free to reach out should you have any questions.
EVENT DETAILS:
Tuesday, February 15
Time: 5:30 – 7 p.m. (EST)
Link to be provided ahead of the Town Hall. No registration required.