Join KPMG's Black Professionals Network Session | Tonight at 6
career
| September 10, 2020
Submitted by
Nia Lagleva
for Career and Professional Development
Important Notice
For the latest information and updates about McMaster's response to COVID-19 (coronavirus) please visit the McMaster COVID-19 site.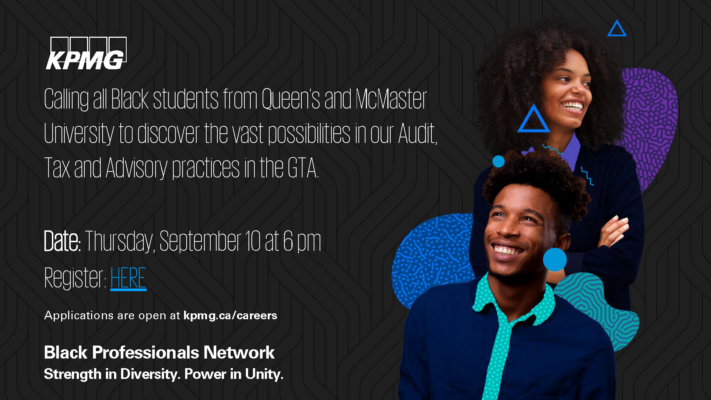 KPMG's Black Professionals Network (BPN) mandate is to promote the advancement of Black professionals through building strong networks and providing career development and mentorship opportunities.
In advance of KPMG's upcoming GTA information sessions on September 14, KPMG's BPN would now like to host a separate session for Black students to provide an overview of the recruitment process (activities and timelines), highlight key skills and capabilities our firm is looking for and to start to build trusting relations with the talent pipeline for future scholarship and career opportunities from the BPN and our partner organizations.
Event details:
Date: Monday, September 10
Time: 6 p.m. (EST)
Click here to register.