Final Four: Kevin's Last Lessons From His Undergrad
academic
| August 13, 2018
Submitted by
Kevin Linger
for Marketing and Communications
After spending the last 60 months at DeGroote, including the last 4 working full-time for the marketing team, my university chapter is coming to a close.
It's been awesome, and I can barely recognize my first-year self.
I've laughed, cried, lost a few friends along the way and met some new ones too. I've studied all week for a midterm and then celebrated a job well (or not well) done after writing it on Saturday.
I've made mistakes in school, with friends, and at work. I'm also proud of my academic record, feel lucky for the friends that I've made, and I've learned a lot working for some great mentors.
For my final blog post as a Digital Marketing Intern at DeGroote, I'd like to share the lessons I've learned during my time in university.
Lesson #1: Be Daring
Last summer, I was taking the GO Train home from Toronto. A stranger sat beside me, and we struck up a conversation for almost the entire trip. She was in her 40's, and she worked for a shipping company.
I explained that I was a university student – and as any graduating student can attest – she began asking me about my plans after graduation. My responses to this question included "I hope I can…" and "I just want to meet an employer that will take a chance on me."
This woman looked me dead in the eyes and said that she needed to tell me something.
"You seem like a nice young man, but you need to understand something: you shouldn't behave like a leaf fluttering around in the wind hoping for someone to reach out and grab you. You're a bright person and if you want something, you need to go out and take it."
Those words have stuck with me since that train ride, and they made a huge impact during my final year.
I thought about what it is that I wanted, and I decided to go out and get it.
After our conversation, I enrolled in McMaster's Digital Marketing CCE program, which would require me to take 7 courses each semester. I also began asking professionals to meet up for informational interviews.
These words stuck with me when I pursued both my current position at DeGroote and my new role at Mass Minority.
My advice for students is to be daring. If you want something, it's up to you to go out and take it.
Nobody is going to be impressed by a person that is just sitting around waiting for something good to fall into their lap.
Go out, and make moves. Use the freedom of your twenties to go out and hustle.
Lesson #2: Nobody Has It Figured Out
During my first year, I was a member of the DCS' First Year Council (shout-outs to Aaron, Bianca, Eric, Jainil, Jaskarn, Jay, Nikita, Partow, Peter and Rachel).
Some of my other first-year friends were impressed that I was already involved on-campus, but I didn't feel the same way.
Instead, I couldn't stop thinking about how polished the Second Year Council was. I remember looking up to the 2013/14 DCS President, Conrad Thompson, and thinking he had absolutely everything figured out.
Flash forward to my final year, and some people might think the same way about me (maybe?).
The secret about students in the final year of their degrees?
They're all scrambling to try and figure out what their path is after graduation.
What I've realized is that university can be a competition to see who can pretend to have their life the most figured out.
When I was on the First Year Council, did I know very much about life?
Absolutely not.
Did I pretend to around my friends?
Definitely.
It can be difficult to focus on your own desires and goals, but this is the key to success. If you worry about what other people are doing, you'll only ever pay attention to their highlight reels, which will only promote anxiety and unease.
Lesson #3: You Are Capable Of What You Believe You Are Capable Of
"Whether you think you can, or whether you think you can't, you're right."
– Henry Ford
Too many people today are constantly doubting themselves. In my opinion, the ultimate predictor of success is attitude. If you believe you can be successful in something, you will achieve your goals. If you hesitate or don't trust your abilities, you are doomed to fail.
When I was in first-year, I must have been told a thousand times how difficult second year was (#tbt to when we had 9 required courses, with only 1 elective). Going into second year, I was so afraid of taking on too many extra-curricular activities because of my expected course-load, that I missed out several opportunities.
In reality, while I found my classes to be challenging, I could have pursued much grander ambitions outside of the classroom. I actually consider second year to be a lost year.
Fast forward to my final year, and I enrolled in 7 courses per term, worked part-time, stayed involved on-campus and networked regularly.
What I learned from this was not to doubt myself. If you believe you can do something, do it, and don't let doubt corrupt your thoughts.
Lesson #4: The Only Way To Find Your Passion Is To Try Things
A commerce degree is a very flexible degree.. Every organization needs business people, and the skills that we are developing are applicable to any industry.
For many students, the multitude of options that we are presented with can be paralyzing. When you can do anything, how do you decide which route is the best?
The only way to close doors is to walk through them first.
In second year, I was on the DCS' external team, but I ended up seriously disliking it. My work wasn't particularly noticeable, and I realized that if I didn't push myself, nobody would care.
This experience shaped my extracurricular activities for the rest of my degree.
During my third year, I was unsure whether to pursue marketing or finance as an area of focus. To decide, I took one elective from each discipline.
I ended up loving the marketing class and hating my finance elective, which made deciding on future electives easy.
During my internship, I was exposed to a number of areas of marketing, including digital, e-commerce, and branding. I loved working on our e-commerce platform and email marketing software, but I despised making creative assets.
You can probably guess what I learned I was passionate about during internship – I spent the next year preparing for a position in digital marketing.
In first year, my goal was to "learn about business and pursue a career in business." Through trial and error, I refined my search all the way to "pursuing a digital marketing position at an advertising agency in Toronto."
Keep walking through those doors! It's the best way to discover what you're passionate about.
Bonus Lessons
Before I put the cover over my keyboard, I'd like to share a few more short tips:
Reading books is essential to your development. By regularly reading books outside of the classroom, you'll gain perspective, feel more confident, become more articulate, and be able to discuss a greater number of topics. I would HIGHLY recommend reading "What Color is Your Parachute," by Richard Nelson Bolles. It completely changed the trajectory of my career.
Take advantage of today, because you never know what tomorrow will bring.
Make sure your friends and family know how much you appreciate them. Tell your friends that they're important to you, and call your Mom every once in a while.
A healthy body is a happy body. Trying to maintain a nutritious diet is critical for feeling good throughout the day.
Thanks for reading!
Readers, if anyone has any questions or would like to connect, feel free to reach out to me on LinkedIn.
[ … ]
I'd like to thank my team for the wonderful experience I've had working for DeGroote over the last 8 months.
Thank you Jared, Andrew P, Andrew B, Oanh, Chris, Kellie, Leah, Kristine, Shez, Erin, Brooke, Marisa, Sandy, Emilie, and Corinna.
---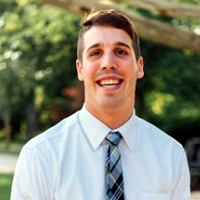 Thanks for reading!
I'm Kevin, and I'm a fifth year DeGroote undergraduate commerce student. I am also enrolled in my second semester of Mac CCE's Digital Marketing program. I spent my fourth year completing a 14-month internship, and I am now DeGroote's newest Digital Marketing Intern.
You can find me refilling my eighth cup of coffee in the DSB café, going for a run through Westdale, making cringe-worthy Dad jokes, or playing a very mediocre game of squash.