Knowledge Labs Webinar: Managing Technology & Mental Wellness | Nov 18
extracurricular
| November 4, 2020
Submitted by
Leah Fleet
for Marketing & Community Engagement
Important Notice
For the latest information and updates about McMaster's response to COVID-19 (coronavirus) please visit the McMaster COVID-19 site.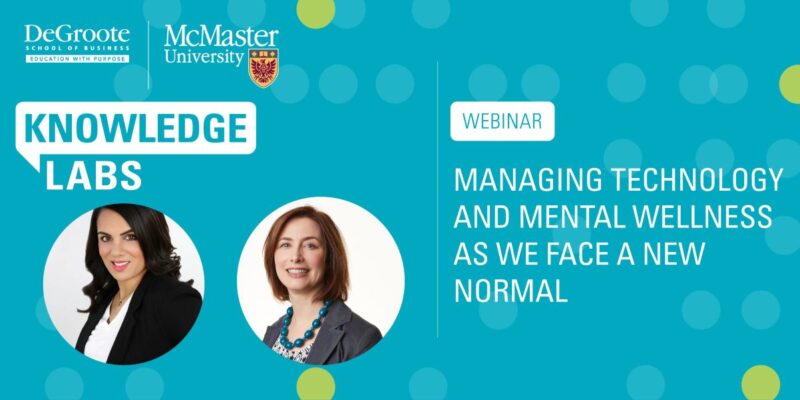 As we look ahead and begin to see parts of our daily lives return to normal, how can we make sure we are continuing to take care of our emotional well-being? Technology can help or hinder the pressure we feel in our daily jobs and responsibilities, so how do we continue to slow down as we look toward the future?
The goal of technology has always been to streamline our daily lives and make things easier. However, we can argue that prior to the pandemic, it was doing the opposite. We were working at a faster pace than ever and juggling more than we thought possible. When the pandemic hit, technology supported us exactly how it was meant to – keeping us connected to our work, family and friends, and making those processes easier while we all slowed down and stayed home.
Join Dr. Natasha Sharma, B. Com. '00, Founder of NKS Therapy and Dr. Catherine Connelly, BCom '99 Professor at DeGroote School of Business, for our next Knowledge Labs webinar, where they will be discussing balancing the old pace of life with the new normal and the role technology plays.
Event details:
Wednesday, Nov 18
1 – 2 p.m. (EST)
Reserve your spot on the Zoom registration page.