KPMG Ideation Challenge information session
This message does not apply to part-time students.
Important Notice
For the latest information and updates about McMaster's response to COVID-19 (coronavirus) please visit the McMaster COVID-19 site.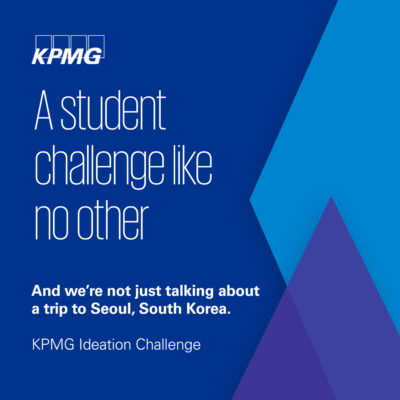 Attend an information session and learn how you can participate in the KPMG Ideation Challenge (KIC).
About the challenge:
Participants in the KPMG Ideation Challenge (KIC) will work in teams to collaborate, learn and create client solutions leveraging business knowledge, and data & analytics. With a focus on innovation, disruption and transformation,  join a team of students currently enrolled in either a business or STEM program to develop a solution to a real-life challenge. Learn from great thinkers, explore new innovations, and grow your connections.
Successful candidates will progress on to their local KIC round. Winning teams from the local KIC rounds will enjoy an all-expenses-paid trip to the national event, and the Canadian finalist will join teams from around the world in the global final in Seoul, South Korea!
About the information session:
Date: Monday, November 11
Time: 11:00 am to 1:00 pm
Location: Peter George Building, PGCLL M12
Dress code: Business casual
Register in OSCARplus, job posting 119058 under Business Student Job Postings.