KPMG Ignite conference
career
| June 17, 2019
Submitted by
Meghan Forbes
for SE-CPD
This message does not apply to part-time students.
KPMG Ignite is an exclusive event that will provide you with an opportunity to come together with top students interested in full-time career opportunities in the GTA. During this one-day conference, you will experience interactive workshops, industry insights and networking opportunities to discover where a career at KPMG can take you.
The Ignite conference is designed for undergraduate business students entering their 4th year, or masters students who are interested in a full-time career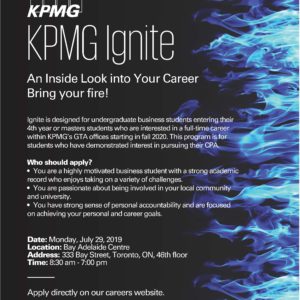 at KPMG's GTA offices starting in fall 2020. This program is for students who have demonstrated interest in pursuing their CPA.
Who should apply?
• Highly motivated business students with a strong academic record who enjoy taking on a variety of challenges.
• Students who are passionate about being involved in their local community and university.
• Students with a strong sense of personal accountability who are focused on achieving their personal and career goals.
Date: Monday, July 29, 2019
Location: Bay Adelaide Centre
Address: 333 Bay Street, Toronto, ON, 46th floor
Time: 8:30 am – 7:00 pm
All applications must be received no later than Monday July 1 at 11:59pm. Apply directly on the KPMG careers website or click here for more information.