Library's Annual Holiday Toy and Food Drive
extracurricular
| November 29, 2018
Submitted by
Ines Perkovic
for Innis Library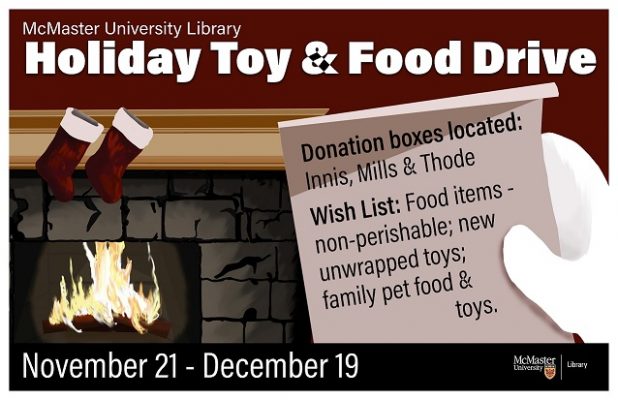 Library's Annual Holiday Toy and Food Drive
McMaster University Library is pleased to once again host the Annual Toy and Food Drive in support of local Hamilton charities from November 20 – December 19.
New, unwrapped toys for children up to the age of 16, non-perishable food items, and toys for family pets are all needed. Donations can be dropped off at Innis, Mills or Thode libraries.
Looking for ideas?
Infants and toddlers:
toys
books
games
craft kits
colouring books, crayons and/or markers
building blocks
puzzles
dolls, action characters/figures and accessories
gift certificates for toy stores
Older children:
sports items, equipment, accessories
model kits
make-up, hair essentials and accessories
gift certificates/cards (movie passes, video and music stores, shopping malls)
For further information, please phone 905-525-9140 ext. 22077, email library@mcmaster.ca or visit Innis, Thode or Mills libraries.
Your continued support is greatly appreciated.