MARS Apprentice. Four Days Left to Apply.
extracurricular
| March 4, 2020
Submitted by
Yael Morris
for MARS Apprentice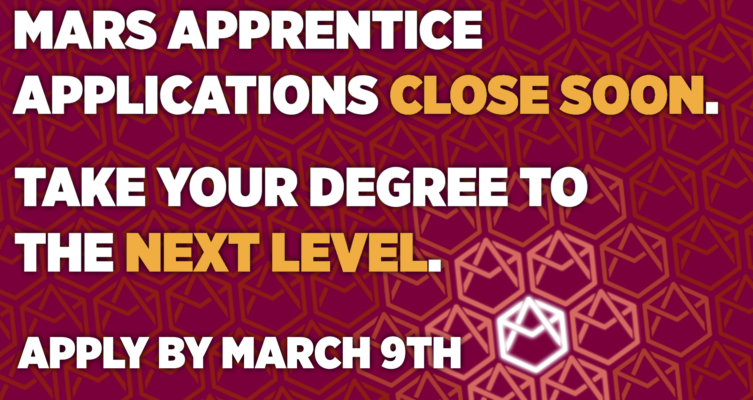 Are you a high-achiever? A risk-taker? Looking for that next big challenge to prove yourself to yourself? MARS Apprentice is looking for those in the pursuit of better. If you think you have what it takes, apply to MARS Apprentice. Applications close in four days.
Already sold? Here's the link. www.cutt.ly/MARS
Want to learn more? Keep reading…
What is MARS Apprentice?
MARS Apprentice is an intensive experiential learning case-competition program for upper-year students who are in the pursuit of better. It is for students with a desire to learn about how some of the biggest businesses really work—an accelerator that takes you beyond your degree and into the real world. For eight weeks, two teams work together to solve numerous real-world case challenges that are relevant to innovative industry leaders. Now in its 16th season, MARS Apprentice has proven to be not only a career launchpad but also an incubator for knowledge and an opportunity for students to discover their potential.
Why apply to MARS Apprentice?
Gain in-depth knowledge of businesses in multiple industries such as tech, consumer packaged goods, personal finance, digital marketing, and more
Further develop your teamwork, leadership, and presentation skills with professional 1:1 leadership coaching
Kickstart your career with an exclusive internship or full-time graduate position through senior industry leaders of their program partners
Receive a Commerce 4EL3 experiential learning credit
Become part of the tight-knit 200+ MARS Apprentice alumni network
Who's eligible for MARS Apprentice?
Commerce students, Engineering Management, or those pursuing a minor via the Commerce Faculty
Students in their 3rd, 4th, or 5th year of study during the Fall 2020 semester
When can you apply to MARS Apprentice?
Now! Applications are open until March 9 at 11:59pm. Visit www.cutt.ly/MARS to apply.
If you have any questions or want to meet with the MARS Apprentice Executive team, reach out via email at mars@mcmaster.ca, or on Instagram @marsapprentice!