MARS Apprentice Sprint Cases…Pencil Us In
extracurricular
| February 5, 2020
Submitted by
Yael Morris
for MARS Apprentice
This message does not apply to part-time students.
Important Notice
For the latest information and updates about McMaster's response to COVID-19 (coronavirus) please visit the McMaster COVID-19 site.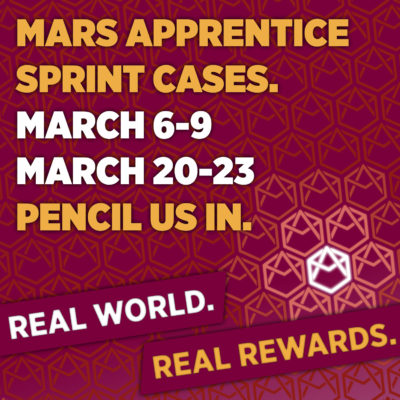 We know you've had to wait… but now it's time to save the date(s) for our SPRINT Cases this semester!
What are the Sprint Cases?
Weekend-long real-world marketing challenges for students in teams up to five. This is not your run of the mill case competition. Your experience will be heavily integrated with our learning partners (you will visit their offices and receive their guidance) throughout the case!
Sign-ups will be open two weeks prior to each case to sign up individually or with a team. So start thinking about who you might do this with! Limited spots are available.
Why do the Sprint Cases?
Because this an opportunity to prove yourself and prepare yourself for the real world, beyond your classroom learning. These cases are an opportunity for you to apply your classroom knowledge in a real business context. Even more, you will receive best in class guidance and insights from industry leaders. This is your chance to stand out from the crowded market of students with an unparalleled experience.
When are the Sprint Cases?
Case One: Friday, March 6 to Monday, March 9
Case Two: Friday, March 20 to Monday, March 23
Disclaimer: These Sprint cases are independent of the Apprentice applications for Fall 2020.
Follow us on Instagram @marsapprentice for more updates on the Sprint Cases and Apprentice application.
If you are interested in learning more, we would love to meet you. Send us a message at marsapprentice@outlook.com or DM us on Instagram!