Help define the future of long-term investment | McGill International Portfolio Challenge
This message does not apply to part-time students.
Important Notice
For the latest information and updates about McMaster's response to COVID-19 (coronavirus) please visit the McMaster COVID-19 site.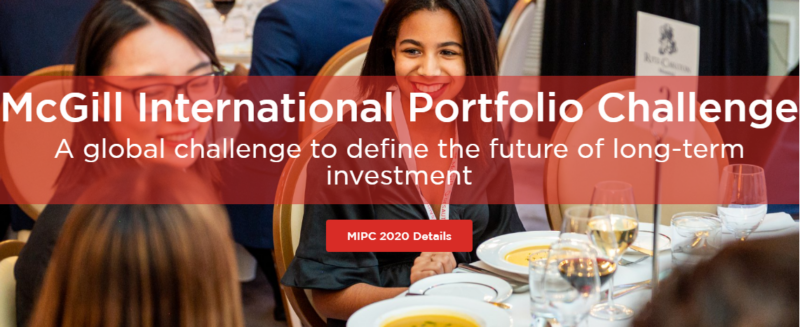 The MIPC is a unique opportunity for students around the world to develop and pitch sustainable investment to dozens of professional institutional investors, all while competing for CAD$50,000 in cash prizes.
This year's case will reflect our current reality, centering around the rise in protectionist tendencies and the desire for countries to become more independent, especially in times of crisis, and how to design a portfolio to satisfy a broad range of stakeholders amid these constraints.
What you need to know:
The MIPC will be hosted virtually this fall, beginning on September 14 and culminating with the semi-final and final rounds on November 5 and 6.
Through written proposals and a combination of live and recorded presentations/Q&A over two months, student teams present their solutions to panels of high-level portfolio managers and strategists, who, in turn, grill every part of students' proposals.
In parallel, this event offers a range of other educational benefits, including a "Speaker Series" with many of our sponsors and a mentorship program between semi-finalist students and industry professionals. It also offers numerous direct recruiting and networking opportunities with our 15+ sponsors, who represent among the largest asset managers in the world and who all look to MIPC to recruit leading student talent.
Registration & details:
Regular Registration Fee: C$200/team + tax (Ends September 13)

*Funding is available through the DeGroote Experience Fund when the activity does not conflict with any work term or academic requirements.

Visit www.mipc.ca for registration and further details, such as the timeline, logistics, testimonials, and cases from previous years.