Open Circle's Online Trivia Night | Nov 5
extracurricular
| November 3, 2020
Submitted by
Hardil Bhatt
for Open Circle McMaster
Important Notice
For the latest information and updates about McMaster's response to COVID-19 (coronavirus) please visit the McMaster COVID-19 site.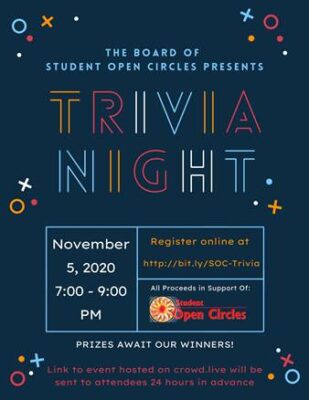 Come out to a fun virtual trivia night with a team of friends (or meet new friends!), in support the McMaster and Hamilton communities!
All proceeds support Student Open Circles to resource Open Circle and CVC.
Event details:
Thursday, November 5
7 – 9 p.m. (EST)
Cost: $10 (student price)
Purchase tickets on Eventbrite.