Proteus Innovation Competition
extracurricular
| November 13, 2019
Submitted by
Alexis Maynard
for Student Experience - Academic (BCom)
The Proteus Innovation Competition is an intense four-month competition that will challenge individuals to create a viable commercialization strategy for
1 of 3 promising technologies,
in hopes of winning a cash prize!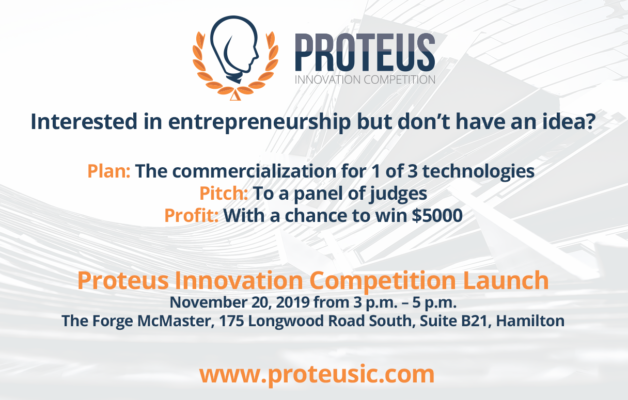 This three-part competition allows contestants to hone their business skills, work with a variety of experienced advisors, and accelerate the commercialization process on discoveries coming out of Ontario's institutions.
Proteus has selected 3 technologies from 3 universities: McMaster University, Western University, and the University of Windsor.
Learn more about the competition and technologies at the Proteus launch:
Wednesday, November 20
3 – 5 p.m.
The Forge McMaster, 175 Longwood Rd South, Suite B21, Hamilton
Additional information and the link to register can be found here. Can't make it to the Launch? Register for the livestream here!