Royal Roads Design Thinking Challenge – now accepting applications!
extracurricular
| November 16, 2022
Submitted by
Brooke Luke
for Dean's Office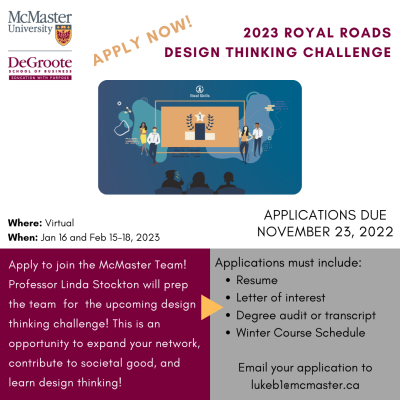 The Royal Roads Design Thinking Challenge is a virtual event for Business Undergrads who want to contribute to societal good and learn design thinking. Apply to join Professor Linda Stockton and the McMaster University team to work with civic leaders to address a real-world design challenge.
Why participate?
Gain mastery in design thinking; advance your innovation acumen
Work with a live client to contribute to a project that will benefit society
Be mentored by judges who are industry professionals
$10, 000 in prizes
Challenge Details:
January 16 and February 15-18
Where: Virtual
Email your application to lukeb1@mcmaster.ca including

Resume
Letter of interest
Degree audit or transcript
Winter Course Schedule

Application deadline: 4 p.m. on Wednesday, November 23
Space is limited – don't miss the opportunity to work collaboratively, share knowledge, and build on the ideas of your teammates at the Royal Roads Design Thinking Challenge!