Taking Flight: How 2018 BCom Grads Prepared For Life After Graduation
career
| August 8, 2018
Submitted by
Kevin Linger
for Marketing and Communications
During the first few years of your undergraduate degree, you are probably primarily focusing internally on the University experience. Your attention is consumed by student clubs and committees, midterms, group projects, and spending time with friends.
During the final year of your degree, you will begin to hear a question that will soon become all too familiar:
"What are you going to do after you graduate?"
In your search for an answer to that question, your focus shifts externally. Now, your days are filled with job applications, networking engagements, coffee meetings, and graduate program research.
Every person's journey is unique, so I've interviewed three of my friends to share how they secured their post-grad plans.
After completing her internship, Shelby Orme returned to DeGroote and immediately dove into the Fall recruitment cycle.
Mike Campagnolo worked at Stryker Canada for a summer and a year-long internship prior to re-joining the team full-time after graduation.
Keri Schrader decided to develop her business acumen with further education and is enrolled in DeGroote's Co-op MBA program beginning in September 2018.
I opted to forego the traditional Fall recruitment cycle in favour of networking throughout the year to find a full-time position. After my role at DeGroote is finished at the end of August, I'll be working for an ad agency in Toronto this September.
Shelby Orme – Shopper Marketing Associate at Maple Leaf Foods Inc.
In her new role as Shopper Marketing Associate for Maple Leaf Foods, Orme will be working with her team to manage all in-store promotional executions. Previously, she worked as a Marketing Associate for Pfizer during her internship.
Returning to DeGroote in September, Orme eagerly jumped into the Fall recruitment cycle.
The Fall recruitment cycle is when many companies are visiting campus to recruit students for full-time positions beginning after graduation. Many students that pursue Fall recruitment secure their new positions before Christmas!
During the Fall recruitment cycle, some application deadlines are scheduled as early as August. Application deadlines, information sessions, and networking events take place on a daily basis.
"You definitely have to be a lot more independent and organized during post-grad recruitment. Internship was a very structured process with constant reminders as to what needed to get done," said Orme.
Orme cited the pace of information sessions and interviews as being particularly fast compared to her experience pursuing an internship.
"After submitting applications you could learn whether or not you advanced to the next round within a couple of days."
Given how quickly things move during the Fall recruitment cycle, Orme knew she needed a plan. She targeted marketing roles, specifically ones that aligned with her goals and values.
Rather than applying to a broad group of positions, she made sure to target a few roles on OscarPlus prior to preparing her applications.
"It's easy to get overwhelmed when you see hundreds of positions online," said Orme.
When asked about what advice she had to share with students preparing for the Fall recruitment cycle, Orme had this to say:
"Stay on top of it – you need to come into the school year organized if you plan to participate in post-grad recruitment. Take advantage of the resources we have at DeGroote, having a strong resume and cover letter is critical to getting through the application process. Once you get to interviews it's really important to articulate your qualifications, but remember that you're often going up against people who have the same degree as you so make sure you differentiate yourself and show a little bit of personality!"
After successfully navigating the whirlwind that is Fall recruitment, Orme could teach a master class in organization.
Michael Campagnolo – Associate Sales Agent, Stryker Canada
Less than four full months after graduating, Campagnolo has already worked in three different positions for Stryker Canada, one of the world's leading medical technology companies.
During his degree, Campagnolo spent 20 months working as a Pricing and Contracting intern for Stryker during two summers and a 12-month internship. After completing his undergrad, he started working as a Pricing Analyst before being promoted to his current role as an Associate Sales Agent at the end of July 2018.
Why did Campagnolo decide to return to Stryker after graduation?
"The culture was a strong fit. They also invested heavily in their people and promoted from within, which I saw as a great recipe for somewhere to start my career," said Campagnolo.
As well, Campagnolo's job scope has continued to grow during his time at Stryker. During his first summer, his responsibilities included administrative work with some exposure to analytics. Prior to his promotion, Campagnolo had progressed to completing full pricing analytics.
When asked about what took place between leaving Stryker at the end of August and receiving his full-time offer the following January, Campagnolo had this to say:
"I was fortunate enough to have a strong relationship with my manager, team, and HR rep. I made a note to communicate my graduation date, along with the fact that I was interested in returning. I wanted to return so much that it didn't necessarily have to be on the same team. I think communication was important, I even recall candidly asking what the best approach was to stay in touch with the team when I left in the Fall. I ended up connecting with my old team and HR two or three times over the first semester, which included meeting for dinner."
For many students, returning to a summer job or internship after graduation is an important priority. Campagnolo's advice for pursuing that goal includes:
Being respectful
Asking lots of questions
Requesting feedback early on
Be a nice person to everyone, no matter what their title might be
For students in the Commerce Internship Program, Campagnolo suggests getting to know people within and outside of your team.
Based on his current trajectory at Stryker, we can probably expect Campagnolo to be the CEO of Stryker by late 2018.
Kevin Linger – Media Technologist, Mass Minority
After completing my internship at HUB International in August 2017, my goal was to join an advertising agency in a digital marketing role after graduation.
Mass Minority is an advertising agency that leverages big data to develop a strategy for their clients. Last August, a friend of mine introduced me to the Chief Data Scientist at Mass, and we met for drinks before I returned to DeGroote. I really enjoyed meeting him, and because I was fascinated by the company's work, I promised myself that I would stay in touch during my final year.
There aren't very many advertising agencies that recruit at DeGroote during the Fall recruitment cycle. Since I didn't have any prior experience in that field, I knew I would have to rely heavily on networking to find my position.
During my final year, I was focused on building relationships to determine which company was the best fit for me. I would meet 1 or 2 professionals every month for drinks or coffee. I also attended multiple events that included DeGroote's Digital Leadership Summit, and even job shadowed at a local agency in Hamilton. These informational interviews proved to be invaluable for developing my industry knowledge and determining my ideal fit.
As well, I scheduled multiple appointments with Danielle Little, a Relationship Manager in the Student Experience Office. She helped me improve my resume, suggested different events to meet people, and helped coach me through the recruitment process. Even though I wasn't pursuing a position during Fall recruitment, I think remaining engaged and leveraging the resources available to me was very important.
Throughout the entire process, I continued to stay in touch with Mass. I met again with Data Scientist 3 or 4 times and stayed in touch by sharing interesting articles back and forth about industry trends.
Prior to receiving my job offer, I ended up interviewing with the Managing Director, President, CEO, and a more senior Media Technologist. This thorough introduction confirmed my desire to join the team.
My advice to students interested in finding their position outside of Fall recruitment is to determine what it is that you're looking for and dedicate yourself to pursuing that role.
Keri Schrader – MBA Candidate, DeGroote School of Business
While many students pursue employment immediately after graduation, others choose to continue improving their skills via formal education.
Why did Schrader decide an MBA was her next move?
"I decided to pursue an MBA to continue building on the business acumen I had developed over the last four years. More importantly, it would be a way for me to contribute more value in the form of leadership, communication, decision making, and teamwork skills to a reputable company in the near future. An MBA is ultimately a way to open exciting career opportunities!"
As well, Schrader hasn't decided on what industry she would like to build her career in.
"This is why the Co-operative MBA program is such a great fit for me. The program will allow me to explore a variety of fields and positions throughout the program while giving me the modern business skills I need along with the opportunity to apply them during three paid work terms. By the time I graduate from the program, I will have a better grasp of the career I want to pursue!"
The decision to enroll in DeGroote's MBA program wasn't taken lightly by Schrader. She followed a 7-step process that culminated in her final acceptance.
The online search: Schrader began researching the reputation of different MBA schools in September 2017. She focused on student experiences, success stories, and technical requirements – including work experience.
Mosaic application and selection of professional references: Schrader developed relationships with professors for her references.
Online interview: A month after submitting her references, Schrader received a link where she had to answer several behavioural questions.
GMAT: Juggling studying with her full course load, Schrader began preparing for the GMAT in December 2017. She successfully wrote the exam in March.
Application submission: With her references and GMAT score prepared, Schrader submitted her application.
In-person interview: Schrader practiced answers to behavioural questions prior to her meeting with the admissions team at the Ron Joyce Campus.
Final Acceptance: A few weeks after her meeting at the RJC, Schrader received her acceptance by email and mail.
Schrader cited her positive experience during her undergrad as a major reason for enrolling in DeGroote's MBA program.
Bonus: Cynthia Bishop – Manager, Career and Professional Development
Cynthia Bishop is a Manager in DeGroote's Student Experience Office, and she focuses on supporting students in achieving their career goals.
Bishop strongly emphasized the importance of networking during a job search, whether your path involves Fall recruitment, a year-long search, or returning to a previous employer.
"Don't underestimate the impact of networking on job search success. It's people that are making the hiring decisions," said Bishop. "The networking events in September are a one-time opportunity for you to start building relationships and to impress decision makers."
Bishop also reiterated how early the Fall recruitment process begins. "Students are used to their first deliverables being three weeks into the semester, but on-campus recruitment starts in August. Companies are trying to identify top talent early, and top talent is eager."
Students can access job opportunities via OscarPlus – but be sure to attend networking events that your preferred organizations will be attending.
For students pursuing Fall recruitment, look for positions throughout August and September. To help students navigate on-campus recruitment when they return to campus, the Student Experience office will be hosting a webinar on August 23.
As well, students can meet multiple employers during the Student Experience team's annual Career Friday event on September 28. Information for this event is also on OscarPlus.
Students are also encouraged to meet with DeGroote's relationship managers for resume and interview support, as well as assistance in preparing a recruitment strategy.
To all students graduating this year, remember: You have developed skills during your degree that employers desire. Be proactive in your job search, and best of luck in finding your perfect fit!
---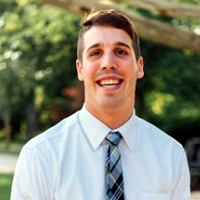 Thanks for reading!
I'm Kevin, and I'm a fifth year DeGroote undergraduate commerce student. I am also enrolled in my second semester of Mac CCE's Digital Marketing program. I spent my fourth year completing a 14-month internship, and I am now DeGroote's newest Digital Marketing Intern.
You can find me refilling my eighth cup of coffee in the DSB café, going for a run through Westdale, making cringe-worthy Dad jokes, or playing a very mediocre game of squash.