The Clinic: Health Innovation and Entrepreneurship Mixer
extracurricular
| October 1, 2018
Submitted by
Chris Gaspic
for Student Experience - Academic and Career and Professional Development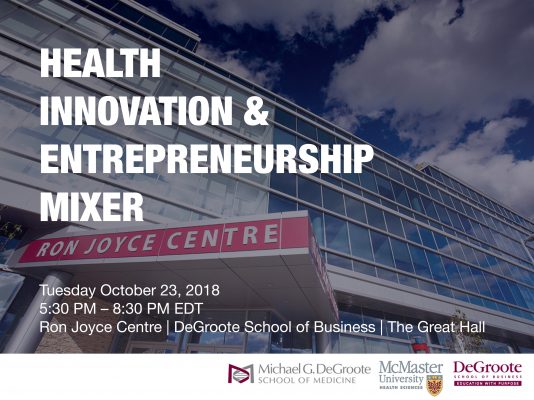 The Clinic: Health Innovation and Entrepreneurship Mixer
A new innovative educational experience is coming to RJC @ McMaster University!
You're invited to an exclusive Health Innovation mixer, designed to bring together the best and brightest minds. This event is jointly hosted by the Michael G. DeGroote Initiative for Innovation in Healthcare (MGDII) and the DeGroote School of Business (DSB). Come out to learn more about health innovation initiatives on-campus, meet and hear from esteemed alumni entrepreneurs, researchers and clinicians, and network with like-minded innovators.
Students from the MBA program, as well as other graduate programs across the university, will have the opportunity to learn more about a new course associated with 'The Clinic @ RJC'. The course, focused on the entrepreneurship within the life sciences, will offer clinicians and researchers an opportunity to work with students to unlock the commercialization potential of their current research. A light dinner and refreshments will be served.
Agenda
5:30 – 6 p.m –  Sign-in, Refreshments and Open Networking
6 – 6:15 p.m. – Opening Remarks
6:15 – 6:50 p.m. – Overview of Clinic Course and Brief "Fireside Chat" style Discussion with Entrepreneur
6:50 – 7:30 p.m. – Facilitated Discussion Tables
7:30 – 8:30 p.m. – Final Remarks and Open Networking
Please Register to attend.
A light dinner and refreshments will be served.