Tutoring volunteering opportunity – Apply now
extracurricular
| September 29, 2022
Submitted by
Karina Almeida
for Student Experience - Academic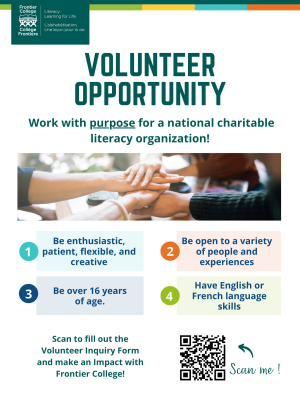 Every school year, Frontier College recruits over 100 student volunteers to tutor children and youth in the Hamilton community. This Fall, they are offering both virtual and in-person learning programs and are actively recruiting volunteer tutors.
Volunteers donate more than 50,000 hours to tutoring math, reading and writing; reading stories; helping with special events; and working for the Frontier College Book Donation Program. No teaching experience is required.
Learn more at Frontiercollege.ca/Get-Involved
Questions? Contact Frontier College.