University of Waterloo Accounting Conference (UWAC)
extracurricular
| January 28, 2020
Submitted by
Meagan Keane
for McMaster University
Important Notice
For the latest information and updates about McMaster's response to COVID-19 (coronavirus) please visit the McMaster COVID-19 site.
The 3-day University of Waterloo Accounting Conference in downtown Toronto is an enriching student experience complete with a case competition, networking, keynote speakers and socials!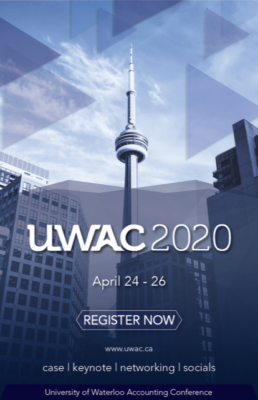 Delegates will have the opportunity to participate in workshops hosted by some of Canada's largest national accounting firms: Deloitte, EY, KPMG, MNP, PwC, and RSM.
UWAC also provides potential mock interviews for students from smaller accounting firms hiring for summer interns and placing the resumes of all delegates in a lookbook for employers.
Interested? Read more about the conference in the UWAC 2020 Delegate Package, or register on the UWAC Facebook Page.
Apply by Saturday, February 15.