Update: Grief support sharing circle
extracurricular
| September 21, 2022
Submitted by
Yashasvi Yadav
for Open Circle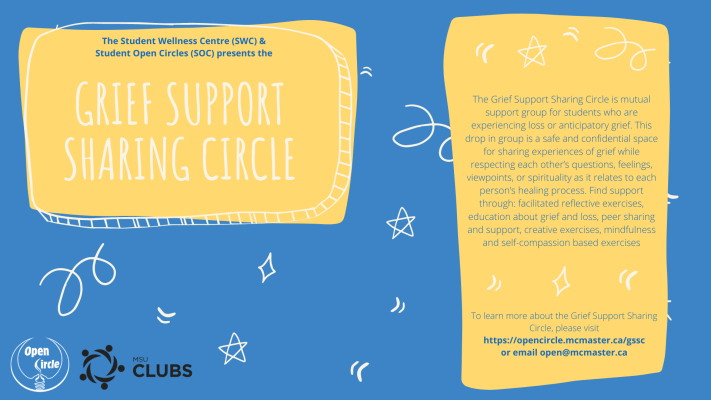 Grief Support Sharing Circle
Thursday, October 6
Time: 2:30 – 4 p.m. (ET)
Location: PGCLL – Student Wellness Centre Lounge: Meeting Room 206

The Student Wellness Centre Lounge is located in PGCLL 201. Our meeting room 206 is inside the lounge. Walk through the lounge and take the hall to the right. The meeting room is on the right side of the hall. Signs will be posted.

Masks are required (a medical or KN/N95 mask). Masks available upon request. Do not attend if you feel unwell.
A mutual support group for students who are experiencing loss or anticipatory grief, due to the death of a loved one. This group is a safe and confidential space for sharing experiences of grief while respecting each other's questions, feelings, viewpoints, or spirituality as it relates to each person's healing process. Find support through facilitated reflective exercises, education about grief and loss, peer sharing and support, creative exercises, mindfulness and self-compassion-based exercises.
"Human beings have a deep need to be present with our losses rather than turn away from them. Having a circle of support in this process is invaluable." – Mirabai Starr
Facilitated by Marybeth Leis Druery and Simone Gomes, M.S.W., R.S.W.
Questions? Email Marybeth Leis Druery at leismb@mcmaster.ca