Webinar: A business focus on Canada's healthcare labour shortage
extracurricular
| September 13, 2022
Submitted by
Chris Fitchett
for MaCE - DeGroote School of Business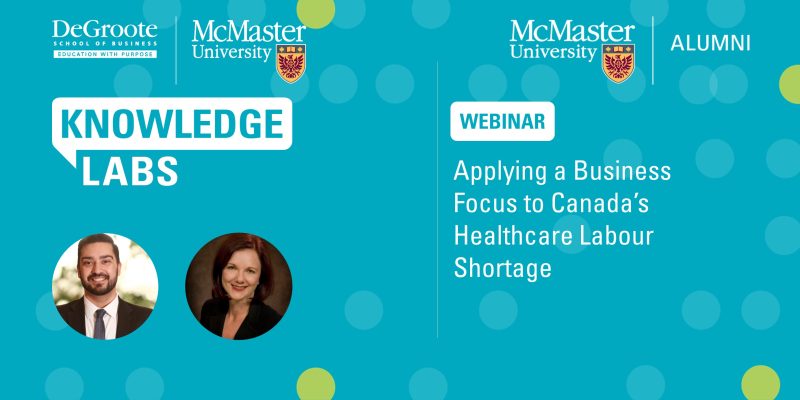 Join us for a Knowledge Labs Webinar where we apply a Business Focus to Canada's Healthcare Labour Shortage. This webinar is designed to shed some insight on the reasons for our healthcare labour shortage and outline some key implications. While the healthcare ramifications are clear, we aim to peel a layer further to discuss the business implications of this shortage.
Our panel will be made up of DeGroote alumni industry experts Rebecca Repa, MBA. '90, Executive Vice-President, Clinical Support & Performance at University Health Network, and Arsalan Hamidi, MBA. '13, Senior Manager, Transformation and & Organizational Enablement at Sinai Health System. Rebecca and Arsalan both have extensive experience in the Canadian healthcare system, as well as in various health management roles. They will be bringing this knowledge and experience to us as they dive deep into the topic of the healthcare labour shortage while answering your questions.
Some of the topics that will be discussed include:
A review of how we got here
Public vs. Privatization
Digital Transformation
Leadership & Management
A look toward the future
Webinar details:
Tuesday, September 27
We look forward to having you join us for this Knowledge Labs Webinar. Pre-submitted questions can be submitted through the registration mechanism.