Weekly Mindful Mornings With Open Circle
extracurricular
| October 7, 2020
Submitted by
Hardil Bhatt
for Student Open Circles
Important Notice
For the latest information and updates about McMaster's response to COVID-19 (coronavirus) please visit the McMaster COVID-19 site.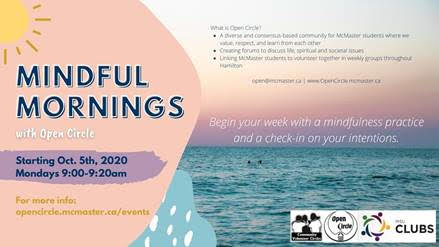 Begin your week with a guided mindfulness practice and a check-in on your intentions. Build a strong and grounded start to your day in the company of others.
Event Details:
Each Monday from 9 – 9:20 a.m. (EST).
Register on Open Circle's website.