What's Soul Got To Do With It?
extracurricular
| November 3, 2022
Submitted by
Yashasvi Yadav
for Open Circle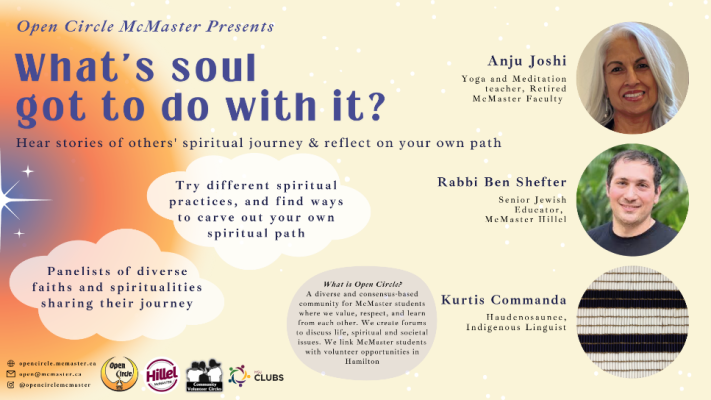 A Panel Event – hear stories of others, reflect on your own path
Tuesday, November 15
Join us to hear from panelists of diverse faiths and spiritualities sharing their journey and the role that their beliefs play in their everyday lives. This is a chance to listen to and learn from stories, engage in discussion, try a variety of spiritual practices, and find ways to carve out your own spiritual path.
Panelists include:
Kurtis Commanda, Haudenosaunee, Indigenous Linguist
Anju Joshi, Yoga and Meditation teacher, Retired McMaster Faculty
Rabbi Ben Shefter, Senior Jewish Educator, McMaster Hillel
Brought to you by Open Circle and part of the "Spiritual Significance of…" Series, Spiritual Care and Learning Centre