Winter 2021 Virtual Townhall | Mar. 2
Important Notice
For the latest information and updates about McMaster's response to COVID-19 (coronavirus) please visit the McMaster COVID-19 site.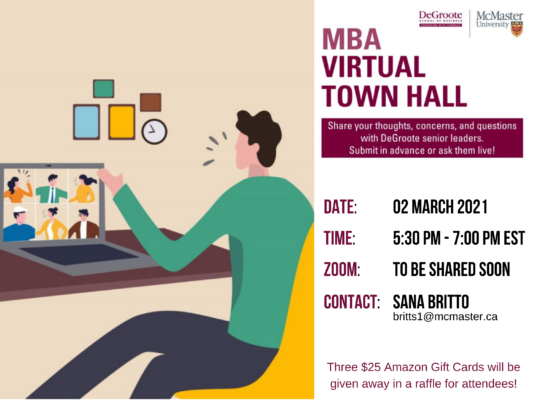 Share your thoughts, concerns, and questions with DeGroote senior leaders. On March 02 they will be available to listen and help students navigate these challenging times. Questions about academic, career, virtual learning, and beyond are welcome. Submit your questions/concerns or ask them live during the virtual Townhall!
Event details:
Date: Tuesday, March 2
Time: 5:30 – 7:00 p.m.
(Zoom link to be shared)
Contact Sana Britto (MBAA Academic Director) at britts1@mcmaster.ca if you have any questions.