Youth Leadership at the Forefront of Agenda 2030 | July 14
This message does not apply to part-time students.
Important Notice
For the latest information and updates about McMaster's response to COVID-19 (coronavirus) please visit the McMaster COVID-19 site.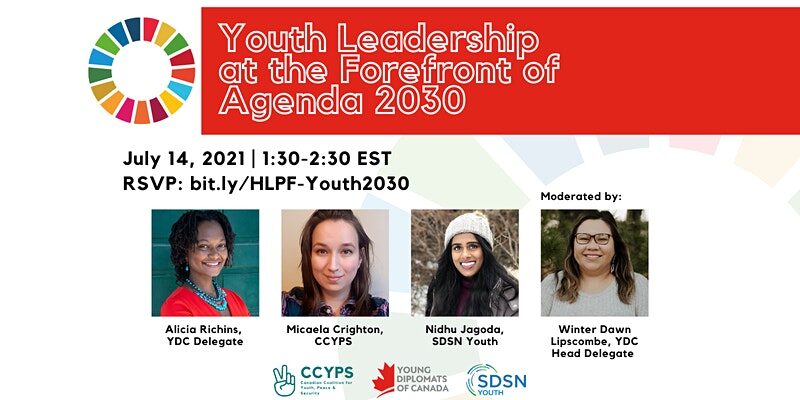 Join the Young Diplomats of Canada, the Canadian Coalition for Youth, Peace and Security and the Sustainable Development Solutions Network at this year's High Level Political Forum (HLPF) on Sustainable Development!
What you need to know:
Focuses on themes of HLPF and aims to amplify the Youth perspective on sustainable development by showcasing some of the bold young leaders who are pushing for concrete and innovative progress towards implementing Agenda 2030
The COVID-19 pandemic has illuminated and exacerbated the structural nature of global inequalities and their negative impacts on sustainable development and positive peace
Panel discussion will consider the integrated, indivisible and interlinked nature of the Sustainable Development Goals and recognize the importance of mainstreaming the Youth Peace and Security Agenda both domestically and internationally
Panelists:
Winter Dawn Lipscombe – Head Delegate, YDC Delegation to the HLPF
Alicia Richins – Engagement Coordinator, YDC Delegation to the HLPF
Micaela Crighton – Co-founder & Steering Committee CCYPS
Nidhu Jagoda – SDSN Youth, Network Coordinator
Event Details:
Date: Wednesday, July 14
Time: 1:30 – 2:30 p.m. (EDT)
Register: Eventbrite