Dean Leonard Waverman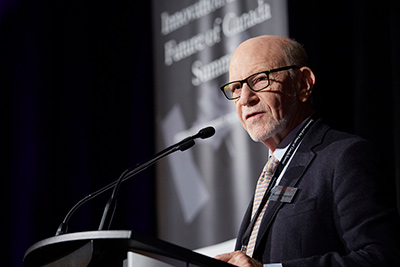 Leonard Waverman began his term as dean of the DeGroote School of Business at McMaster University in January 2013.
Dr. Waverman is a world-renowned expert in international telecommunications and global resources management.
He specializes in microeconomics and industrial organization, economics of telecommunications, energy and resource economics, international trade, public utility and public enterprise economics. His current research focuses on the impact developments in the telecommunication industry have on growth and productivity. He has authored the influential Connectivity Scorecard, an annual index that ranks countries according to how advanced their communications networks are in promoting productivity and growth.
Dr. Waverman has consulted widely on energy, natural resources, telecommunications, and competition policy matters in Canada, the United States, and Europe.
He earned his BCom and MA from the University of Toronto and his PhD in economics from MIT. He has been a professor of economics at the University of Toronto and the London Business School and Dean of the Haskayne School of Business as well as professor of strategy at the University of Calgary.
Board Appointments
BNP Paribas Canada
Non-executive board member
September 2011 – Present
Editorial Board, Telecommunications Policy
July 2009 – Present
Advisory Board to the Chair of the Alberta Energy Resources Conservation Board
Member
May 2009 – Present
C.D. Howe Institute
Director
January 2009 – Present
LECG Ltd.
Director
October 2004 – Present and December 1997 – January 2000
Selected Publications
The Telecommunications Global Regulatory Index
With P. Koutroumpis
Telecommunications Policy, 2011
The Failure of Competitive Entry into Fixed-Line Telecommunications, Who's at Fault?
With R. Crandall
Journal of Competition Law and Economics, 2005

The Effects of Public Ownership and Regulatory Independence on Regulatory Outcomes
With G. Edwards
Journal of Regulatory Economics, 2005
Standards in Wireless Telephone Networks
With D. Salant and N. Gandall
Telecommunications Policy, Vol. 27, No. 5 – 6, June – July 2003
Presented to the U.S. House Committee on International Telecommunications
Competition in Wireless: Spectrum, Service and Technology Wars
With M. Jamieson, N. Levine
Telecommunications Policy, Vol. 27, No. 5 – 6, June – July 2003
Econometric Cost Functions
With M. Fuss, in M. Cave, S. Majumdar and I. Vogelsang (eds.)
Handbook of Telecommunications Economics, Kluwer, 2002
Telecommunications Infrastructure and Economic Development: A Simultaneous Approach
With H. Roeller
American Economic Review, Sept. 2001