Dean Khaled Hassanein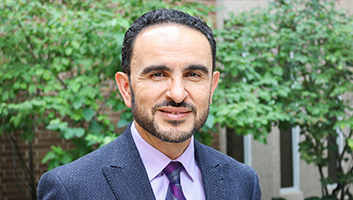 Khaled Hassanein began his term as dean of the DeGroote School of Business at McMaster University July 1, 2021.
Dr. Hassanein is the past associate dean of graduate studies and research for the School, director of the McMaster Digital Transformation Research Centre, and McMaster's SSHRC Leader.
Dr. Hassanein received his undergraduate education at Kuwait University and completed master's and PhD degrees in electrical engineering from the universities of Toronto and Waterloo, and an MBA from Wilfrid Laurier University.
His interdisciplinary research spans the areas of digital transformation, data analytics, e-Health, artificial intelligence, decision support systems, and neuro-information systems. He has published over 125 peer-reviewed articles in leading journals and conferences and has received thousands of citations. Dr. Hassanein is a joint holder of several U.S. patents and a senior member of the IEEE. In 2020, he received the DeGroote School of Business Research Excellence Award and McMaster's President Award for Excellence in Graduate Supervision.
Selected Publications
What You See is What You G(u)e(s)t: How Profile Photos and Profile Information Drive Providers' Expectations of Social Reward in Co-usage Sharing.
 Information Systems Management, 2021
Subjective semantic surprise resulting from divided attention biases evaluations of an idea's creativity.
Scientific Reports, 2020

Dynamic model of online information quality perceptions and impacts: a literature review.
Behaviour and Information Technology, 2019
Assessing the Design Choices for Online Recommendation Agents for Older Adults: Older Does Not Always Mean Simpler.
MIS Quarterly: Management Information Systems, 2019