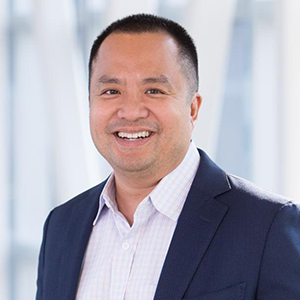 Alfredo Tan - MBA
Industry Professor
Senior Vice-President – Strategy, Data, and Products
Rogers Sports & Media
Professional Speaker, Bespoken Bureau
Leadership Council, Perimeter Institute
A thought-leader, change agent, and an impact-focused innovator, Alfredo C. Tan is an Industry Professor in the Strategic Management Faculty at McMaster University, where he teaches at the undergraduate and graduate level and at The Directors College Innovation Governance program for Board Directors. He is also a Senior Vice-President of Strategy, Data, and Products at Rogers Sports & Media. He leads the critical functions responsible for leading the acceleration of the industry's digital transformation. Alfredo and his team are focused on building world-class consumer experiences through integrated digital strategies, putting culture at the centre of the transformation, creating a culture of experimentation, and using data to influence strategy, product development, and partnerships.  
Over the past two decades, Alfredo has led companies through changing digital landscapes, evolving consumer expectations, and behaviours. Most recently, he was the chief marketing officer and the first chief digital & innovation officer at WestJet Airlines. He led the teams responsible for all guest-facing digital experiences, technology, innovation, marketing, product management, data analytics, and research to transform the guest experience and deliver over $2B in e-commerce revenue.
Alfredo has been profiled and quoted in Forbes Magazine, Marketing Magazine, The Economist, Strategy Magazine, The Globe and Mail, and many other leading industry publications. He was inducted into the McMaster University Alumni Gallery. He currently sits on the Advisory Board on Innovation at McMaster University, is a member of the Leadership Council at the Perimeter Institute for Theoretical Physics, and sits on the Haskayne Business School Advisory Council at the University of Calgary. Alfredo is also a member of the Young Presidents' Organization (YPO). He was recognized with the University of Toronto's Desmond Parker Outstanding Young Alumni Award and the prestigious Arbor Award for his service.
Alfredo holds an Honours Bachelor of Science Degree in Forensic Science & Biology from the University of Toronto, an MBA with a specialization in Information Systems & Technology from the DeGroote School of Business, and a Master of Laws (LL.M.) with a concentration in Innovation & Technology from the Faculty of Law at the University of Toronto. Alfredo is also a graduate of the Advanced Management Program at the Harvard Business School. Currently, Alfredo is completing a graduate diploma (Masters-EQF Level 7) in Finance & Strategy at Oxford University. He has been accepted for graduate studies in Data Science & Machine Learning at UC Berkeley for matriculation in 2022.