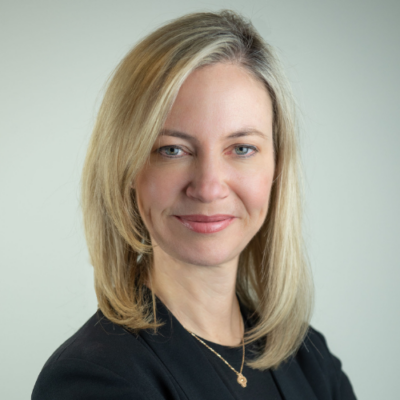 Claire Gillies
Recipient of the Wayne C. Fox Distinguished Alumni Award | 2021
Alumni
Distinguished Alumni
The information in this profile was accurate at the time the award was presented.
Executive Vice President Marketing and President Consumer, BCE Inc.
Graduating with an MBA from the DeGroote School of Business in 2001, Claire Gillies has been able to build a long and impressive resume of progressively senior positions at Bell Canada, one of Canada's largest and most iconic companies. Gillies is currently the Executive Vice President Marketing and President Consumer, where she leads all consumer marketing for Bell, Virgin Plus, and Lucky Mobile Brands.
Gillies originally graduated from McMaster University's Faculty of Science in 1998, with an undergraduate degree in science, specializing in biology and psychology, which was one step in her lifelong plan to become a physician. On graduation day, Gillies began to wonder if there was another path for her. She then enrolled in the co-op MBA program at DeGroote with an understanding that she could return to medicine, while having business skills as an asset. However, once the program began, there was no turning back for Gillies.
She went on to spend all her co-op terms with Bell Mobility and was subsequently offered full-time employment after completing her MBA. Gillies rose quickly through the ranks to senior leadership roles within the company, including President of The Source, and Senior Vice President, Retail at Bell Mobility, where she was responsible for all Bell retail operations. Gillies has dedicated much of her career to Bell, that colleagues joke her "blood is blue".
Gillies credits her success to personal drivers such as her curiosity and preparedness but is also quick to acknowledge that the learnings she received while at McMaster has played a major factor in her success.
Gillies is an active leader in the community working with Kids Help Phone and currently sits on the organization's Board of Directors. In 2022 she was named one of Canada's Best Executives in the Globe & Mail Report on Business Magazine.