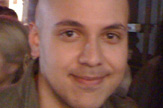 Firat Sayin
Human Resources and Management
McMaster University 1280 Main Street West Hamilton, ON, Canada L8S 4M4
DSB A210
905-525-9140, x26178
Firat joined the PhD program at the DeGroote School of Business in September 2013 and passed his comprehensive exam with distinction in June 2015. He defended his thesis proposal in January 2016. His main area of interest lies in organization theory and workplace diversity. He enjoys using both quantitative and qualitative methods for his research. Firat is also a student fellow at the Centre for Research on Work Disability Policy (CRWDP).
Supervisor: Isik U. Zeytinoglu
Education
M.B.A., Management and Change, Carleton University
B.A., Economics, Bogazici University
Selected Publications and Presentations
Sayin, F. K., Honig, B., Zeytinoglu, I. "Habitus, cultural literacy, and power in an unstructured field: The case of personal support workers in Canada", 32nd European Group of Organization Studies (EGOS) Colloquium, Naples, Italy, July 2016.
Ornek M., Sayin, F. K. "An Exploratory Study on Canada's Historical Openness for Low-Skilled Workers, Refugees, and Asylum Seekers", 18th National Metropolis Conference, Toronto, Ontario, March 2016.
Zeng, Z., Sayin, F. K., Honig, B. "Institutional distance and immigrant entrepreneurs' firm founding activities", Annual Conference of Academy of Innovation and Entrepreneurship, Toronto, Ontario, August 2015.
Sayin, F. K. "Multiple identities and workplace socialization: bringing social identity and Bourdieusian approaches together", 31st European Group of Organization Studies (EGOS) Colloquium, Athens, Greece, July 2015.
Sayin, F. K., Chowhan, J., Zeytinoglu, I. "Immigrants with Disabilities and Labour Force Status: An Intersectionality Analysis" International Conference on Immigration, Integration and Inclusion, Quebec City, Quebec, June 2015.
Sayin, F. K. "The impact of social capital on the employment outcomes of immigrants with disabilities", 8th Annual Ethnic and Pluralism Studies Graduate Research Conference, Toronto, Ontario, January 2015.
Sayin, F. K. "Determinants of Labour Force Status for Immigrants with Disabilities", Pathways to Prosperity 2014 National Conference, Montreal, Quebec, November 2014.
Sayin, F. "Human capital of newcomers: Toward an integrated conceptual framework / Le capital humain des nouveaux arrivants: vers un cadre conceptuel intégré", Canadian Industrial Relations Association, St. Catharines, Ontario, May 2014.
Experience
Prior to starting the program, Firat worked in contact centre, consulting and education industries in Canada and Turkey. He has worked as a teaching assistant since he started the program.
Research and Study Interests
Intersectionality and immigrant identity at workplace
Determinants of employment outcomes of immigrants with disabilities
Impact of human and social capital on organizational performance
Bourdieusian approaches in management and organization theory
Impact of accent on employment outcomes
Recognition
Ontario Graduate Fellowship (2016-2017)
Ontario Graduate Scholarship (2015-2016)
The Gray/Vinall Ontario Graduate Scholarship (2015-2016)
Professional Activities
Professional Affiliations
Academy of Management
European Group for Organizational Studies
Administrative Sciences Association of Canada (ASAC)