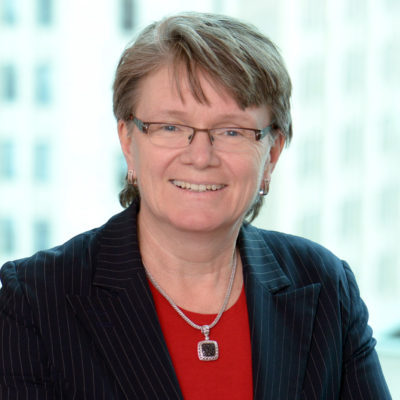 Mary Lou Maher
Recipient of the Wayne C. Fox Distinguished Alumni Award | 2019
Alumni
Distinguished Alumni
The information in this profile was accurate at the time the award was presented.
Canadian Managing Partner, Quality & Risk Management, KPMG Canada
Global Head of Inclusion and Diversity, KPMG International
A veteran leader at KPMG, Mary Lou Maher was named Canadian Managing Partner, Quality & Risk Management, in January 2018 – in addition to her role as Global Head of Inclusion & Diversity. She is celebrated for creating KPMG Canada's first-ever National Diversity Council, and is the Executive Sponsor of pride@kpmg. The latter is KPMG's network for Lesbian, Gay, Bisexual, and Transgender (LGBT) employees, partners, and allies, and currently boasts 1,800 members in 14 chapters.
Maher was drawn to McMaster in the late-1970s not just because of its renowned business school, but because McMaster and Hamilton seemed an easier transition to urban life for a rural kid. When she arrived at KPMG's Toronto office, she learned quickly on the job and good assignments landed on her desk often. By the time she ascended to the top HR position, Maher felt so strongly that everyone should bring their whole selves to work that she opened up about her own sexuality. She continued to receive encouragement from senior leaders at the firm, and was made a partner in 1995.
Among other accomplishments, Maher was named a Trail Blazer for Women Chartered Accountants, and placed into the Hall of Fame for the WXN Top 100 Most Powerful Women in Canada. She also received the Lifetime Achievement Award from Standing Proud, as well as the Senior Leadership Award for Diversity from the Canadian Centre for Diversity and Inclusion.