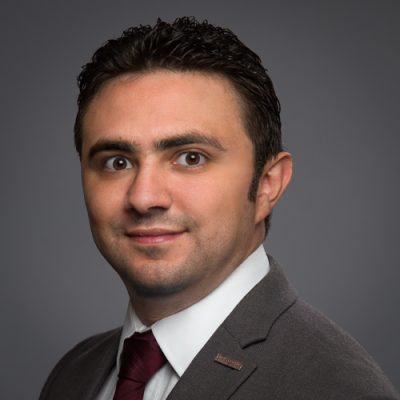 Nour El Din El Shamy - MBA
PhD
Shamy joined the DeGroote PhD program in Information Systems in September 2013. His primary research interests focus on Human-Centric Decision Support Systems and Human-Computer Interaction, particularly as related to Older Adults, by utilizing a mix of Behavioural and Neurophysiological Information Systems (Neuro-IS) methodologies. His other research interests include User Experience (UX) and Usability, Evidence-Based Decision Making, Digital Transformation, Unconventional and Emerging Technologies, and Electronic and Mobile Commerce.
Shamy has been involved in the early stages of establishing the McMaster Digital Transformation Research Centre (MDTRC), supporting the development of multiple successful Canada Foundation for Innovation (CFI) / Ontario Research Foundation – Research Infrastructure (ORF-RI) grant proposals for research infrastructure. Shamy continues to serve the MDTRC as a Lab Manager (part-time) and Research Assistant.
Supervisor: Khaled Hassanein
M.B.A., Arab Academy for Science and Technology, Graduate School of Business, 2011
B.B.A., Arab Academy for Science and Technology, College of Management and Technology, 2008
El Shamy, N., and Hassanein, K. (2017). "The Impact of Age and Cognitive Style on E-Commerce Decisions: The Role of Cognitive Bias Susceptibility" in Information Systems and Neuroscience: Gmunden Retreat on NeuroIS 2017. Davis, F., Riedl, R., vom Brocke, J., Léger, P.-M., Randolph, A.B. (Eds.). Springer International Publishing, 2018 (forthcoming). ISBN: 978-3-319-67430-8
El Shamy, N., and Hassanein, K. (2017). A Meta-Analysis of Enjoyment Effect on Technology Acceptance: The Moderating Role of Technology Conventionality. Proceedings of the Fiftieth Hawaii International Conference on System Sciences, HI.
El Shamy, N., and Hassanein, K. "The Influence of Cognitive Biases and Decision Making Styles on Older Adults' E-Commerce Decisions" (2015). SIGHCI 2015 Proceedings. 14, TX.