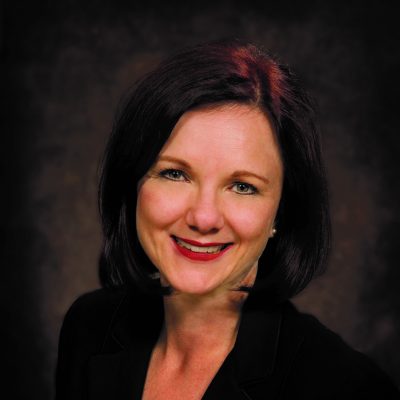 Rebecca Repa
Recipient of the Wayne C. Fox Distinguished Alumni Award | 2006
Health Policy and Management
Alumni
Distinguished Alumni
The information in this profile was accurate at the time the award was presented.
Sessional Lecturer | VP Planning, Redevelopment and Diagnostic Services, St. Joseph's Healthcare*
Rebecca Repa is a graduate from DeGroote School of Business' Health Services management MBA, and is currently the President of St. Peter's Hospital in Hamilton, Ontario. St. Peter's is a complex continuing care hospital that provides inpatient, outpatient, and community-based programs and services that focus on Dementia, Aging, Palliative Care and Rehabilitation. It will be leading the initiative for enhancing the lives of seniors and those with chronic illness.
Rebecca began her career at St. Mary's General Hospital in Kitchener, Ontario in 1990 as the Director of Quality Assurance, Risk Management and Special Projects. Subsequently, she joined the Faculty of Health Sciences at McMaster University in 1992 as Manager of the Department of Surgery where she had a multi-million dollar budgetary responsibility and supervised over 50 staff members. Rebecca joined St. Joseph's Healthcare Hamilton in 1994 as Assistant Vice President of Medical and Diagnostic Services where she led numerous initiatives with medical staff and diagnostic departments and was responsible for over 1 billion dollars of capital redevelopment.
From 2000-2010, Rebecca held the title of Vice President for Redevelopment, Planning and Diagnostic services at St. Joseph's Healthcare Hamilton. She continues to lead initiatives in Laboratory and Diagnostic Imaging for both St. Joseph's Healthcare Hamilton and Hamilton Health Sciences.
A respected and active member of the McMaster and DeGroote Alumni Associations, she is a valued partner in the DeGroote Mentor Program, an active member of several McMaster committees, including the DeGroote Business Advisory Council, and is an Executive-in-Residence and sessional lecturer (Health Care Marketing) at the DeGroote School of Business.
*Title at time of award
President, St. Peter's Hospital
Integrated Vice President, Diagnostic Imaging and Laboratory Medicine,
St. Joseph's Healthcare and Hamilton Health Sciences
2010 – present
Vice President for Redevelopment, Planning and Diagnostic services
St. Joseph's Healthcare Hamilton
2000-2010
Assistant Vice President of Medical and Diagnostic Services
St. Joseph's Healthcare Hamilton,
1994-2000
Manager of the Department of Surgery
Faculty of Health Sciences at McMaster University
1992-1994
Director of Quality Assurance, Risk Management and Special Projects.
St. Mary's General Hospital in Kitchener, Ontario
1990-1992
2006 Recipient of The Wayne C. Fox Distinguished Alumni Award