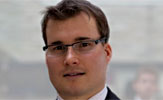 Stephen Charko
Session Lecturer
Strategic Management
McMaster University 1280 Main Street West Hamilton, ON, Canada L8S 4M4
905-525-9140
Stephen's interests and projects span many industries, including both academic and private sector work. He encourages his student's to think beyond the traditional realm of marketing to include the latest topics, tools, and content that will be impacting their jobs when they graduate.
Academically, Stephen's focus is on understanding the ROI of social media and digital marketing, and developing an efficient connection between entrepreneurship in the classroom and extracurriculars. He strives to add value above the status quo.
Specialization: Management of Innovation & New Technology (MINT)
Education
McMaster University
MBA (Hons.), Management of Innovation and New Technology
2009 – 2011
University of Leeds
Biomedical Sciences, First Class with Distinction
2008 – 2009
University of Alberta
B.Sc, Biological Sciences
2004 – 2008
Recognition
MBA G.J. Lozinski Foundation Scholarship 2012
McMaster
January 2012
Entrepreneurship
BEDC Entrepreneurship Scholarship – 2011
BEDC
June 2011
Entrepreneurship
Jason Lang Scholarship
University of Alberta
December 2008
Academic excellence
MSU Professor of the Year (Commerce) 2012-2013
McMaster Student's Union
March 2013
An Excellence in Teaching Award presented to a Professor annually who is voted, recommended, and recognized by the students.