Become an Emerging Leader
extracurricular
| March 4, 2021
Submitted by
Joanna Williams
for Health Leadership Academy
Important Notice
For the latest information and updates about McMaster's response to COVID-19 (coronavirus) please visit the McMaster COVID-19 site.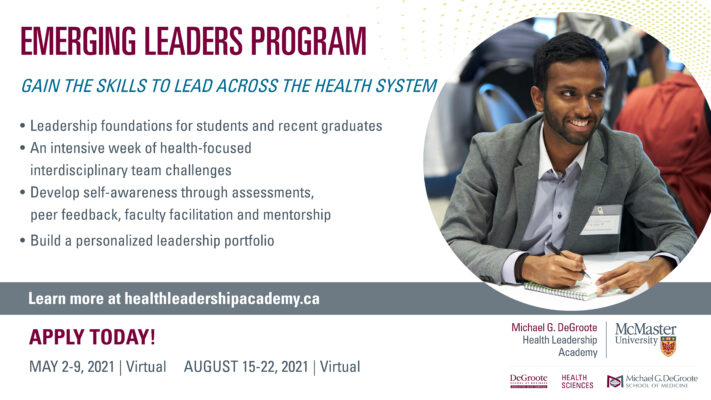 Emerging Leaders is a one-week, intensive leadership program for students and young professionals from across Canada and beyond. Participants gain the skills to lead across the health system by learning the fundamentals of leadership in a health context.
Emerging Leaders focuses on leadership development through a teams lens. Participants work closely with each other to build and lead a collaborative team of engaged and supportive peers. Together interdisciplinary teams take on health-focused challenges in change management, conflict resolution, team engagement, strategic foresight, and design thinking.
Information Session:
Want to learn more about the Emerging Leaders Program? Join an information session to hear from administrators and faculty.
March 5 at 12:30 p.m. (EST)
Learn more and apply for the program on the Health Leadership Academy website.