Canadian Marketing League: Register for the Pre-Season Case Now!
extracurricular
| November 24, 2022
Submitted by
Sean Bolliger
for Canadian Marketing League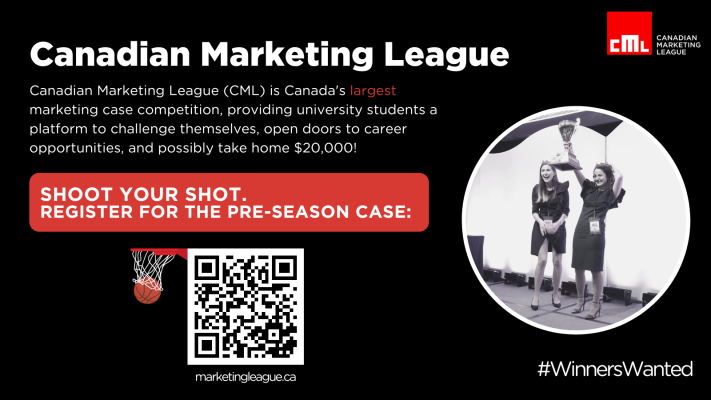 Calling all young and ambitious marketers! Think you're tough enough to play the game? Good enough to think of the next big thing and jumpstart your career into the big leagues?
Who are we? We are the largest and most influential marketing competition in Canada. We are the Canadian Marketing League (CML), built from the strengths and 13-year history of Canada's Next Top Ad Exec.
What do we do? CML is designed for students who seek achievement beyond the classroom; they pursue experiences which will shape their careers and want a platform to showcase their marketing savvy. It's an ideal playground for marketing athletes – those committed, driven, and hungry to prove themselves – ready to play in the big leagues.
CML partners with best-in-class organizations like PepsiCo, Microsoft, Kraft Heinz, General Motors and McDonald's to offer $20,000 in prizing and exclusive career opportunities to students participating from across the country.
How can you get involved? Visit our website to REGISTER to receive our pre-season case when it drops!
What are you waiting for, smarty pants? The ball is in your court!